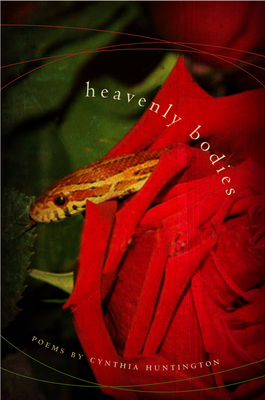 Heavenly Bodies (Crab Orchard Series in Poetry) (Paperback)
Southern Illinois University Press, 9780809330638, 88pp.
Publication Date: January 19, 2012
* Individual store prices may vary.
Description
National Book Award Finalist 2012

In this blistering collection of lyric poems, Cynthia Huntington gives an intimate view of the sexual revolution and rebellion in a time before the rise of feminism. Heavenly Bodies is a testament to the duality of sex, the twin seductiveness and horror of drug addiction, and the social, political, and personal dramas of America in the 1960s.

From the sweetness of purloined blackberries to the bitter taste of pills, the ginger perfume of the Hawaiian Islands to the scream of the winter wind, Huntington's fearless and candid poems offer a feast for the senses that is at once mystical and earthy, cynical and surreal. Echoing throughout are some of the most famous—and infamous—voices of the times: Joan Baez and Charles Manson, Frank Zappa and Betty Friedan. Jinns and aliens beckon while cities burn and revolutionaries thunder for change. At the center is the semiautobiographical Suzy Creamcheese, sensual and rebellious, both almighty and powerless in her sexuality. 

Achingly tender yet brutally honest, Heavenly Bodies is an unflinching reflection on the most personal of physical and emotional journeys.


Univeristy Press Books for Public and Secondary Schools 2013 edition

Finalist for the National Book Award in Poetry, 2012



About the Author
Cynthia Huntington is the author of a prose memoir and four books of poetry, including Heavenly Bodies (SIU Press), a finalist for the 2012 National Book Award. A Guggenheim Fellow, she has received fellowships from the National Endowment for the Arts, the Fine Arts Work Center in Provincetown, and the Vermont Arts Council. A former poet laureate of New Hampshire, she is a professor of English and creative writing at Dartmouth College.
Praise For Heavenly Bodies (Crab Orchard Series in Poetry)…
"This is a poetry of woundedness and defiance. Heavenly Bodies has a stark integrity in its refusals to beguile or comfort; no one could call it uplifting. Yet there is something bracing, even encouraging, in the hungry survival of this sister of Sylvia Plath and in her self-insistence: I do not give up my strangeness for anyone." —Mark Halliday

"Cynthia Huntington's Heavenly Bodies is the most searing and frightening book of poetry I have read in years. The poems arise from pain and illness, from the body's rebellions and betrayals, and yet they are also curiously exhilarating, even redemptive: perhaps because they are utterly free of self-pity, and find the means—hrough the sustained ferocity and invention of their language—to transform suffering into a vision so bold it must be called prophetic. Heavenly Bodies is a remarkable collection, on every level." —David Wojahn, author of World Tree


or
Not Currently Available for Direct Purchase