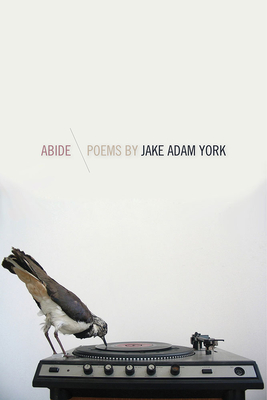 Abide (Crab Orchard Series in Poetry)
Paperback

* Individual store prices may vary.
Description
Winner, 2015 Colorado Book Award
Finalist, 2015 National Book Critics Circle Award
In the years leading up to his recent passing, Alabama poet Jake Adam York set out on a journey to elegize the 126 martyrs of the civil rights movement, murdered in the years between 1954 and 1968. Abide is the stunning follow-up to York's earlier volumes, a memorial in verse for those fallen. From Birmingham to Okemah, Memphis to Houston, York's poems both mourn and inspire in their quest for justice, ownership, and understanding.
Within are anthems to John Earl Reese, a sixteen-year-old shot by Klansmen through the window of a café in Mayflower, Texas, where he was dancing in 1955; to victims lynched on the Oklahoma prairies; to the four children who perished in the Birmingham church bombing of 1963; and to families who saw the white hoods of the Klan illuminated by burning crosses. Juxtaposed with these horrors are more loving images of the South: the aroma of greens simmering on the stove, "tornado-strong" houses built by loved ones long gone, and the power of rivers "dark as roux." 
Throughout these lush narratives, York resurrects the ghosts of Orpheus, Sun Ra, Howlin' Wolf, Thelonious Monk, Woody Guthrie, and more, summoning blues, jazz, hip-hop, and folk musicians for performances of their "liberation music" that give special meaning to the tales of the dead.
In the same moment that Abide memorializes the fallen, it also raises the ethical questions faced by York during this, his life's work: What does it mean to elegize? What does it mean to elegize martyrs? What does it mean to disturb the symmetries of the South's racial politics or its racial poetics?
A bittersweet elegy for the poet himself, Abide is as subtle and inviting as the whisper of a record sleeve, the gasp of the record needle, beckoning us to heed our history.
Praise For Abide (Crab Orchard Series in Poetry)…
"Though York is no longer with us to write and share his poetry and insight, we are able to continue and advance as people by reading his work—to continue and advance as citizens, human siblings,
and ushers of art."—Rain Taxi

"In his body of work, poems of sheer beauty, grace, precision of image, and technical skill, we find a profound intervention into our ongoing conversations about race and social justice, a bold and necessary challenge to our historical amnesia. Jake Adam York is one of our most indispensible American poets, and the presence of his work in the world—his vision, his enduring spirit—is for me, and I think for us all, a guiding light."—Natasha Trethewey, United States Poet Laureate
"Jake Adam York was the finest elegist of his generation, and his ongoing project, an intricately layered threnody for the martyrs of the civil rights movement, also made him one of the most ambitious poets of that generation. And surely his early and sudden death was an immense loss to the poetry of our moment. It is thus bittersweet to observe that this posthumous collection is his finest—informed by a tender lyric acuity, and an ability to interweave the fraught history of his native South with an autobiographical authority that is searching and celebratory by turns. Abide is, in short, a marvel."—David Wojahn

"There's a reason why antebellum mansions still serve, not as museums dealing with the ugliness of slavery, but as popular backdrops for wedding receptions, the kind celebrated by Paula Deen recreating the 'glory' of Gone With the Wind and it has everything to do with an unwillingness to deal with the past openly and honestly… York's poetry is important because of the way that it attacks that unresolved history and refuses to let the longstanding narrative go unchallenged, and it does so from a position of power that makes it difficult for the privileged to ignore it the way they do similar work from poets of color who work in the same thematic spaces."—The Rumpus

Southern Illinois University Press, 9780809333271, 96pp.
Publication Date: March 6, 2014
About the Author
Until his untimely death in December 2012, Jake Adam York was an associate professor of English at the University of Colorado-Denver. He published three books of poems, Murder Ballads (2005), A Murmuration of Starlings (SIU Press, 2008), and Persons Unknown (SIU Press, 2010), and his poems appeared in various journals, including Blackbird, Diagram, Greensboro Review, Gulf Coast, H_NGM_N, New Orleans Review, Shenandoah, and Southern Review.
Coverage from NPR
or
Not Currently Available for Direct Purchase