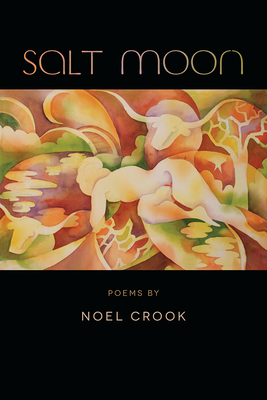 Salt Moon (Crab Orchard Series in Poetry) (Paperback)
Southern Illinois University Press, 9780809333875, 80pp.
Publication Date: February 4, 2015
* Individual store prices may vary.
Description
Crab Orchard Review First Book Prize 
Co-Winner, Julie Suk Prize
Finalist, INDIEFAB Book fo the Year

Throughout Salt Moon, Noel Crook forges the kind of tragic vision Howard Nemerov described as the mark of our finest poets: drawing on myth and memory, Crook's fierce lyrics reveal a world that is at once "hopeless and beautiful . . . giving equal emphasis to both words." Sacrifice and betrayal, parental love and patricide, unleashed desire and cornered despair—these antitheses fuel Crook's Ovidian imagination, which ranges freely from Comanche raids in Texas to a slave plantation in North Carolina, from a carpet maker in Istanbul to beggars in Delhi, from her daughter's hospital room to the war in Iraq. Rendered in unforgettable images, Salt Moon is that rare book which grows richer with each reading.
About the Author
Noel Crook is a poetry editor for Sun Editions. Her poems have been published in Best New Poets, New Letters, Shenandoah, Smartish Pace, and other journals. She lives in Raleigh, North Carolina.
Praise For Salt Moon (Crab Orchard Series in Poetry)…
"Wise blood throbs in the veins of these poems, and wild song lilts through each line. From Carolina woods to Texas canyons, from motherhood to slaughter, Noel Crook's Salt Moon startles with its reach and gratifies with its depth. Don't miss this exquisite book."—Barbara Ras, author of The Last Skin
"I feel carried away by these rapturously perfect poems. Hold any line or stanza in your mind—it bears the exact weight, energy, and detail needed to create the scenes and worlds inhabiting this most potent, tender collection."—Naomi Shihab Nye, author of Transfer
"Morally complex, syntactically dexterous, these brave poems simultaneously consider the past and the future in images that both lacerate and reconcile. Crook merges worlds—white sun, white moon—in poems whose yearning leads us back and forth from stars to nearer fires."—Dorianne Laux, author of Facts about the Moon
"Crook gives us close-ups of overwhelming desire, deepest tenderness, terror, and stunned love. Salt Moon ranges wide, taking us through contradictory landscapes into instantly recognizable human frailty and bravery. And all of it is singing."—Betty Adcock, author of Intervale: New and Selected Poems
"The voice in these poems is authentic . . . a wise observer earning the reader's trust from the outset—sly, dark, and lovely in its speech. I always knew her first book would be a stunner."—John Balaban, author of Locusts at the Edge of Summer
"Crook's concerns are dark and weighty. But hers is a fiercely resilient voice, aware of its own 'black capacities' for survival—and equally unmistakable, the beauty she finds for us in the 'butcher knife that fits the palm like an answer.' Salt Moon is an important debut, a finely made, courageous book."—Claudia Emerson, author of Late Wife
or
Not Currently Available for Direct Purchase