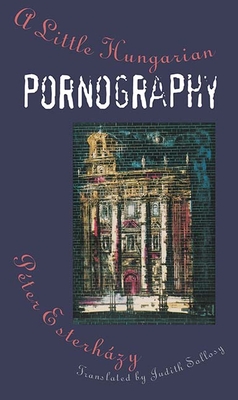 A Little Hungarian Pornography (Hardcover)
Northwestern University Press, 9780810113404, 216pp.
Publication Date: November 10, 1995
Other Editions of This Title:
Paperback (10/29/1997)
* Individual store prices may vary.
Description
An extraordinary montage of sex and politics, Péter Esterházy's innovative novel can be seen to prefigure the liberation of Eastern Europe. Written under what the author calls "small, Hungarian, pornographic circumstances," A Little Hungarian Pornography exists in a context of official falsehood and misinformation, of lies of the body, the soul, and the state, perpetuated in the duality of language.

In a state where the lack of democracy was called socialist democracy, economic chaos a socialist economy, and revolution an anti-revolution, the notion of speech and obscenity becomes equally distorted and skewed. Under these circumstances, the author considers the shackles inherent in the vocabulary of oppression and contrasts this with the freedom of the body in sex. A kaleidoscopic digression on perversion and politics, A Little Hungarian Pornography is both satire and critique, trifle and tract, and further support for Esterházy's status as one of the best writers in Europe today.

About the Author
Péter Esterházy (born 14 April 1950 in Budapest) is one of the most widely known contemporary Hungarian writers. His books are considered to be significant contributions to postwar literature. He studied mathematics at ELTE university in Budapest from 1969 to 1974; his first writings were published in literary journals in 1974. He worked as a mathematician from 1974 to 1978, and he became a freelance writer in 1978.
Praise For A Little Hungarian Pornography…
"Esterhazy writes memorably of an ugly, oppressed society in which the pornography of lies and deceits has made even normal human contact ambiguous." --New York Times Book Review

"Hungary's literary prodigy has done it again: with his imagination running wild, he has produced an audacious treatment of every taboo subject--and got away with it." --World Literature Today

"East European postmodernism at its best." --American Book Review

or
Not Currently Available for Direct Purchase