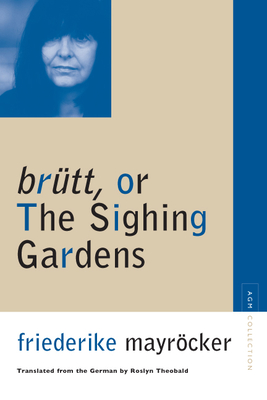 brutt, or The Sighing Gardens (Avant-Garde & Modernism Collection) (Paperback)
Northwestern University Press, 9780810119666, 280pp.
Publication Date: December 12, 2007
* Individual store prices may vary.
Description
brütt, or The Sighing Gardens is the hallucinatory tale of an obsessive writer's love affair late in life as told through the daily journal entries of the writer—a montage of relentless observation interspersed with found materials from newspaper articles, literature, and private correspondence. The process of aging and the process of writing are two persistent and carefully intertwined themes, though it is apparent that plot and theme are subordinate to the linguistic experiments that Friederike Mayröcker performs as she explores them. Mayröcker is known for crossing the boundaries of literary forms and in her prose work she creates a hypnotic, slurred narrative stream that is formally seamless while simultaneously overstepping all the bounds of grammar and style.  She is always pushing to expose the limits of language and explore its experimental potential, seeking a re-ordering of the world through the re-ordering of words. Her multilayered texts are reminiscent of the traditions of Surrealism and Dadaism and display influences from the works of Beckett, Hölderlin, Freud, and Barthes. Yet, much of Mayrocker's writing simply has no corollary and the experience of reading Roslyn Theobald's brilliant translation grants the English-speaking audience an unforgettable encounter with this completely original work. 
About the Author
Friederike Mayrocker (1924– ) is the author of more than fifty books of poetry and prose as well as radio plays and children's books. Other English editions of her work include Night Train (Ariadne Press, 1992), Heiligenanstalt (Burning Deck, 1994), With Each Clouded Peak (Sun & Moon Press, 1998), and Peck Me Up, My Wing (Smokeproof Press, 2000), and Raving Language: Selected Poems 1946-2005  (Carcanet, 2007). She has been honored with many awards, including the America Award (1997), George Büchner Prize (2001), Karl Sczuka Radio Play Prize (2001), and Premio Internazionale (2003).
 
Roslyn Theobald is also the translator of Barbara König's The Beneficiary (1997) and Our House (1998), and Botho Strauss's The Young Man (1995), Couples, Passerby (1996), and Living Glimmering Lying (1999), all available from Northwestern University Press.
Praise For brutt, or The Sighing Gardens (Avant-Garde & Modernism Collection)…
<b>Praise for Friederike Mayrocker:<b>

<p>"Friederike Mayrocker enjoys a growing reputation as a writer whose art insistently crosses the boundaries between literary forms. Her prose is lyrical, and draws on the work of a wide range of modernist writers, from Gertrude Stein to Virginia Woolf. Beckett and Thomas Bernhard have also influenced her style of bombarding the reader with a mixture of realistic and fantastic images. The device forces the reader to participate in the mental drama which supplants narrative in her work.  [A]n ambitious project, often lyrical and intense, and altogether a tour de force." --<i>Times Literary Supplement</i>
"Friederike Mayrocker presents her readers with many puzzles; but among the numerous, currently inflationary topics of autobiographical prose, her work crystallizes the central issues." --<i>Frankfurter Allgemeine Zeitung</i>
"As much as the text defies description, it also indicates future possibilities for poetry.  Anyone drawn into the tow of the book will continue to write it for him or herself." --<i>Lesezirkel</i>, Vienna
or
Not Currently Available for Direct Purchase