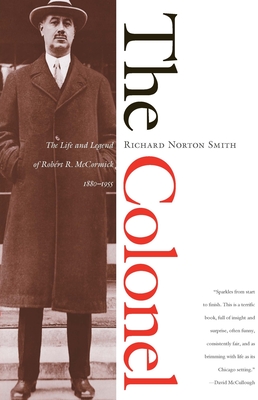 The Colonel (Paperback)
The Life and Legend of Robert R. McCormick, 1880-1955
Northwestern University Press, 9780810120396, 640pp.
Publication Date: February 19, 2003
* Individual store prices may vary.
Description
This is the acclaimed biography of a giant of American journalism. As editor-publisher of the Chicago Tribune, Robert R. McCormick came to personify his city. Drawing on McCormick's personal papers and years of research, Richard Norton Smith has written the definitive life of the towering figure known as The Colonel.

About the Author
Richard Norton Smith is director of the Robert J. Dole Institute of Politics at the University of Kansas. His other books include Thomas E. Dewey and His Times (Simon and Schuster, 1982), a finalist for the 1983 Pulitzer Prize; and Patriarch: George Washington and the New American Nation (Mariner, 1997). Smith is also a regular participant in the roundtable discussions on The News Hour with Jim Lehrer, so he has visibility on public television.

Praise For The Colonel: The Life and Legend of Robert R. McCormick, 1880-1955…
"Richard Norton Smith is a delightful writer, and The Colonel sparkles from start to finish. This is a terrific book, full of insight and surprise, often funny, consistently fair, and as brimming with life as its Chicago setting. Readers are in for a grand time." --David McCullough, author of John Adams

"Richard Norton Smith is everything The Colonel wasn't--judicious, clear-headed, and historically accurate. For all these virtues he's still managed to produce a biography that wonderfully captures his eccentric, pigheaded, impossible (and sometimes even likeable) subject. The Colonel is as big as all Chicago--a fresh, informative, and hugely entertaining book." --Thomas Mallon

"The best book ever written about the press." --Hilton Kramer