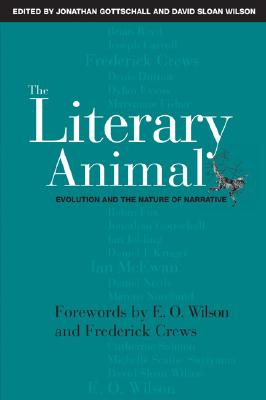 The Literary Animal
Evolution and the Nature of Narrative (Rethinking Theory)
Paperback

* Individual store prices may vary.
Description
In recent years, articles in major periodicals from the New York Times Magazine to the Times Literary Supplement have heralded the arrival of a new school of literary studies that promises-or threatens-to profoundly shift the current paradigm. This revolutionary approach, known as Darwinian literary studies, is based on a few simple premises: evolution has produced a universal landscape of the human mind that can be scientifically mapped; these universal tendencies are reflected in the composition, reception, and interpretation of literary works; and an understanding of the evolutionary foundations of human behavior, psychology, and culture will enable literary scholars to gain powerful new perspectives on the elements, form, and nature of storytelling.

The goal of this book is to overcome some of the widespread misunderstandings about the meaning of a Darwinian approach to the human mind generally, and literature specifically. The volume brings together scholars from the forefront of the new field of evolutionary literary analysis-both literary analysts who have made evolution their explanatory framework and evolutionist scientists who have taken a serious interest in literature-to show how the human propensity for literature and art can be properly framed as a true evolutionary problem. Their work is an important step toward the long-prophesied synthesis of the humanities and what Steven Pinker calls "the new sciences of human nature."

Praise For The Literary Animal: Evolution and the Nature of Narrative (Rethinking Theory)…
"The essays [in The Literary Animal] include some learned, boldly stimulating inquiries into the possible functions of literature as a category of endeavor and experience. Although such discourse looks nearer to anthropology and psychology than to criticism per se, its breadth of perspective and marshaling of solidly grounded research put to shame what usually passes for interdisciplinarity in literary study." —Frederick Crews
Northwestern University Press, 9780810122871, 336pp.
Publication Date: December 26, 2005
About the Author
Jonathan Gottschall has a Phd in English and teaches at St. Lawrence University.

David Sloan Wilson is professor of biology and anthropology at Binghamton University.

or
Not Currently Available for Direct Purchase