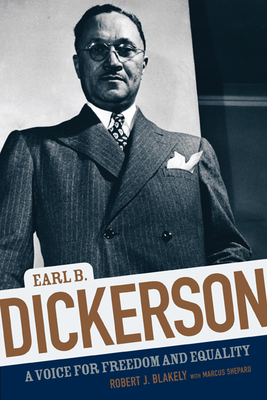 Earl B. Dickerson (Hardcover)
A Voice for Freedom and Equality (Chicago Lives)
Northwestern University Press, 9780810123359, 324pp.
Publication Date: May 15, 2006
Other Editions of This Title:
Paperback (5/31/2012)
* Individual store prices may vary.
Description
Recipient of 2007 The Hyde Park Historical Society Paul Cornell Award

At fifteen, Earl Burrus Dickerson stowed away on a train in Canton, Mississippi, fleeing the racial oppression of his native South. But Chicago, the boy's destination, was no haven of racial fairness and equality. His flight north was in fact the beginning of a journey that would last a lifetime--and would forever pit Dickerson against the forces of racial injustice. Earl B. Dickerson's story, told here for the first time, is one of courage and character, of remarkable accomplishment in the face of terrible odds; it is also emblematic of the twentieth-century struggle for civil rights--a crucial chapter of African American history as it was lived by one uncompromising individual.

In this book, Robert J. Blakely tells how Dickerson (1891-1986) worked his way through preparatory schools and college, a segregated officer's training school, and law school at the University of Chicago. The story follows Dickerson's career as general counsel to the first insurance company owned and operated by African Americans; the first African American Democratic alderman elected to the Chicago City Council; a member of FDR's first Fair Employment Practices Committee; leader of the movement that broke the color barrier to membership in the Illinois Bar Association; and, perhaps most famously, the power behind Hansberry v. Lee, the U.S. Supreme Court case that marked the beginning of the end of restrictive real estate covenants--one of the most pernicious legal tools of segregation in the North. Blakely gives us a sense of the man behind the achievements, the life that defied conventions and statistics, and the world in which "the dean of Chicago's black lawyers" became a pioneering architect for equal opportunity in American life.
About the Author
Robert J. Blakely (1915-1994) was a prominent journalist, writer, and educator. He is the author of six books including "To Serve the Public Interest: Educational Broadcasting in the United States, " (Syracuse, 1979) and "The People's Instrument: A Philosophy of Programming for Public Television "(Public Affairs Press, 1971).

Marcus Shepard is a freelance editor and writer.
Praise For Earl B. Dickerson: A Voice for Freedom and Equality (Chicago Lives)…
"This biography sheds welcome light on the man who sat to the left of Martin Luther King at the 1963 March on Washington. Blakely's straightforward biography makes a meaningful contribution to African-American and Chicago history." --<b><i>Publishers Weekly</b></i>

"[A] portrait of its subject so full and affecting that it makes Earl B. Dickerson rise from the page and extend his hand to make your acquaintance." --Chicago Sun-Times

"Earl Dickerson is a household word at the University of Chicago Law School, where he was the first African American graduate and a standout as a student and an alumnus. Robert Blakely's book now shows a wider audience why Earl Dickerson's name is synonymous with courage, farsightedness, civil rights, and progressive pragmatism."

—Saul Levmore, Dean and William B. Graham Professor of Law, University of Chicago Law School
or
Not Currently Available for Direct Purchase