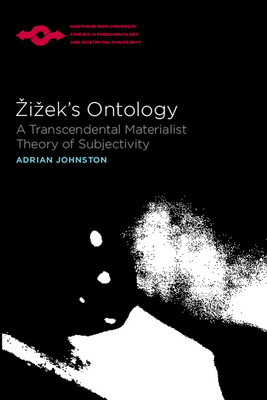 Zizek's Ontology (Paperback)
A Transcendental Materialist Theory of Subjectivity (Studies in Phenomenology and Existential Philosophy)
Northwestern University Press, 9780810124561, 312pp.
Publication Date: March 19, 2008
Other Editions of This Title:
Hardcover (3/19/2008)
* Individual store prices may vary.
Description
Slavoj Žižek is one of the most interesting and important philosophers working today, known chiefly for his theoretical explorations of popular culture and contemporary politics. This book focuses on the generally neglected and often overshadowed philosophical core of Žižek's work—an essential component in any true appreciation of this unique thinker's accomplishment.

His central concern, Žižek has proclaimed, is to use psychoanalysis (especially the teachings of Jacques Lacan) to redeploy the insights of late-modern German philosophy, in particular, the thought of Kant, Schelling, and Hegel. By taking this avowal seriously, Adrian Johnston finally clarifies the philosophical project underlying Žižek's efforts. His book charts the interlinked ontology and theory of subjectivity constructed by Žižek at the intersection of German idealism and Lacanian theory. Johnston also uses Žižek's combination of philosophy and psychoanalysis to address two perennial philosophical problems: the relationship of mind and body, and the nature of human freedom. By bringing together the past two centuries of European philosophy, psychoanalytic metapsychology, and cutting-edge work in the natural sciences, Johnston develops a transcendental materialist theory of subjectivity—in short, an account of how more-than-material forms of subjectivity can emerge from a corporeal being. His work shows how an engagement with Žižek's philosophy can produce compelling answers to today's most vexing and urgent questions as inherited from the history of ideas.




About the Author


Adrian Johnston is assistant professor of philosophy at the University of New Mexico at Albuquerque.


Praise For Zizek's Ontology: A Transcendental Materialist Theory of Subjectivity (Studies in Phenomenology and Existential Philosophy)…
"It is always difficult to read books about oneself; with Johnston's book, my anxiety was even stronger than usual. While reading it, I often had the uncanny feeling of being confronted by a line of argumentation which fits better than my own texts what I am struggling to formulate--as if he is the original and I am a copy. He certainly knows how to read me. The majority of my critics concentrate on popular culture, politics, and ideology in my work--Johnston goes directly to its transcendental-ontological nucleus. This is not a book on me, but a book, critical of me, on what both Johnston and I consider the core of our philosophical predicament. I thus advise the reader to forget about me and to enjoy the hard work of penetrating the obscure dimension of the philosophical foundations of psychoanalysis." --Slavoj Zizek


or
Not Currently Available for Direct Purchase