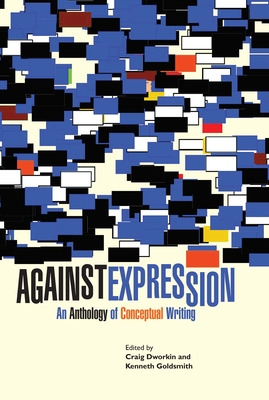 Against Expression (Paperback)
An Anthology of Conceptual Writing (Avant-Garde & Modernism Collection)
Northwestern University Press, 9780810127111, 656pp.
Publication Date: January 17, 2011
* Individual store prices may vary.
Description
In much the same way that photography forced painting to move in new directions, the advent of the World Wide Web, with its proliferation of easily transferable and manipulated text, forces us to think about writing, creativity, and the materiality of language in new ways. In
Against Expression,
editors Craig Dworkin and Kenneth Goldsmith present the most innovative works responding to the challenges posed by these developments.
Charles Bernstein has described conceptual poetry as "poetry pregnant with thought." Against Expression, the premier anthology of conceptual writing, presents work that is by turns thoughtful, funny, provocative, and disturbing. Dworkin and Goldsmith, two of the leading spokespersons and practitioners of conceptual writing, chart the trajectory of the conceptual aesthetic from early precursors including Samuel Beckett and Marcel Duchamp to the most prominent of today's writers. Nearly all of the major avant-garde groups of the past century are represented here, including Dada, OuLiPo, L=A=N=G=U=A=G=E, and Flarf to name just a few, but all the writers are united in their imaginative appropriation of found and generated texts and their exploration of nonexpressive language. Against Expression is a timely collection and an invaluable resource for readers and writers alike.
About the Author
Craig Dworkin is the author of
Reading the Illegible
(Northwestern, 2003), and the editor of
Architectures of Poetry
(2004),
Language to Cover a Page: The Early Writing of Vito Acconci
(2006),
The Consequence of Innovation: 21st Century Poetics
(2008), and, with Marjorie Perloff,
The Sound of Poetry/The Poetry of Sound
(2009).
Kenneth Goldsmith's writing has been called "some of the most exhaustive and beautiful collage work yet produced in poetry" by Publishers Weekly. Goldsmith is the author of ten books of poetry. He teaches writing at the University of Pennsylvania, where he is a senior editor of PennSound, an online poetry archive.
Praise For Against Expression: An Anthology of Conceptual Writing (Avant-Garde & Modernism Collection)…
"Compiled by star practitioner Kenneth Goldsmith and lead academic liaison Craig Dworkin to be not so much a treasury of verse as an argument-by-demonstration, this anthology will excite the reader who wants more than normal literature gives her, as well as annoy — and, perhaps, haunt — the one who values her belief that normal literature gives her everything already." —
Los Angeles Review of Books
"One rarely likes to be told how to read, where to position a text in the context of its literary theory and formal practices, or who the writing owes its legacy to. However, one of the greatest strengths of Craig Dworkin and Kenneth Goldsmith's Against Expression is that it does precisely that." —Drunken Boat