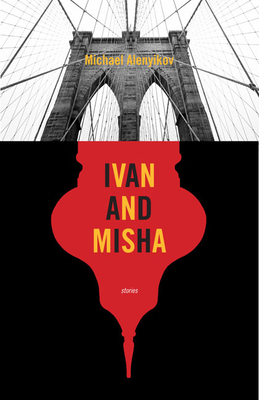 Ivan and Misha (Paperback)
Stories
Triquarterly, 9780810127180, 216pp.
Publication Date: October 30, 2010
* Individual store prices may vary.
Description
The linked stories in this powerful debut by Michael Alenyikov swirl around the titular fraternal twins and their father, Louie, as they make their way from the oppressive world of Soviet-era Kiev to the frenetic world of New York City in the late nineties and early aughts. Ivan, like his father, is a natural seducer and gambler who always has a scheme afoot between fares in his cab and stints in Bellevue for his bipolar disorder. Misha, more haunted than his brother by the death of their mother after their birth, is ostensibly the voice of reason. 

Socially adrift, father and sons search for meaning in their divergent romantic relationships. Louie embarks on a traditional heterosexual dating relationship late in life, while Ivan is sexually opportunistic and omnivorous, and Misha,a young gay man, is torn between his family and the prospect of a committed relationship. The brothers' search for connection leads them through a multitude of subcultures, all depicted in vivid detail. An evocative and frank exploration of identity, loss, dislocation, and sexuality, Ivan and Misha marks the arrival of a unique, authentic voice.
About the Author
Michael Alenyikov's short stories have appeared in Canada's Descant, the Georgia Review, New York Stories, and the James White Review, and have been anthologized in Best Gay Stories 2008 and Tartts Four: Incisive Fiction from Emerging Writers. His essays have appeared in the Gay & Lesbian Review. He was a MacDowell Fellow in 2004–5, and was nominated for a Pushcart Prize in 2007. Raised in New York City, Alenyikov has worked as a bookstore clerk, a clinical psychologist, a cab driver, an interactive media writer, and a consultant. He lives in San Francisco.
Praise For Ivan and Misha: Stories…
"Ivan and Misha is the great American Russian Novel told as Chekhov would tell it, in stories of delicacy, humanity, and insight. From Kiev to Manhattan, Brighton Beach and Bellevue, Michael Alenyikov lays out a series of compelling arguments for brotherhood between brothers, between lovers, between men from an old country. Alenyikov confronts big subjects—illness and madness, sex and love in the age of AIDS, old and new world values, a fallen wall, the metaphysics of survival, the march of generations."

—Carolyn Cooke, author of The Bostons and Daughters of the Revolution
"For the Russian immigrant twins who are the main characters of Ivan and Misha, everyday existence consists of heartbreak, love, and the unexpected. With exuberance and dark humor, Michael Alenyikov depicts their life in New York. These wonderful connected stories are full of warmth, psychological insight, and winning originality."

—Alice Mattison, author of Nothing Is
Quite Forgotten in Brooklyn "A haunting collectionof love and duty. There ismuch to admire on every page."

—Marie Myung-Ok Lee, author of Somebody's Daughter
or
Not Currently Available for Direct Purchase