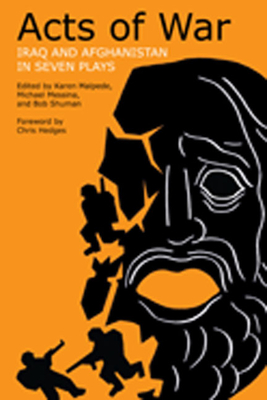 Acts of War (Paperback)
Iraq and Afghanistan in Seven Plays
Northwestern University Press, 9780810127326, 366pp.
Publication Date: March 25, 2011
* Individual store prices may vary.
or
Not Currently Available for Direct Purchase
Description
As Karen Malpede points out in her introduction to Acts of War, tragedy "arose as a complement to, perhaps also as an antidote to, war." The greatest of the early playwrights wrote from experience Aeschylus and Sophocles were generals in the Athenian army, and Euripides was a combat veteran. Electronic media reports war instantly, but the stage provides an unrivaled venue for facing the horror of armed conflict on a human scale.This timely anthology of plays by American and British writers bears witness to the realities of the wars in Iraq and Afghanistan for combatants and civilians alike and asks what it means to be a citizen in a democracy at war. From violence on the battlefield and in the cells of Guantanamo to the toll exacted on the homefront, the seven plays collected by Malpede, Messina, and Shuman explore in depth the costs of war. Sometimes with humor or erotic charge, always with compassion and surprising insight, these contemporary plays return to the theater a necessary social edge. Karen Malpede's introduction sets the plays in the broader contexts of theater's roots and recent history, while award-winning journalist and author Chris Hedges provides a foreword.
About the Author
Karen Malpede is author of fifteen produced plays, short stories, and essays on theater and human rights, and a collection of early plays, A Monster Has Stolen the Sun and Other Plays (1987). She is cofounder, with George Bartenieff and the late Lee Nagrin, of Theater Three Collaborative. She has taught Greek and contemporary drama and writing at Smith College, New York University, and the CUNY Graduate Center s Continuing Education Program. Michael Messina was the publisher at Applause Theatre & Cinema Books and Limelight Editions (Hal Leonard Corporation).He has also worked for Da Capo Press, Cooper Square Press, and the American Booksellers Association. Bob Shuman is the owner of Marit Literary Agency in New York, and is an editor, a playwright, a college professor, an author, and a composer. He is coeditor of Duo!: The Best Scenes for Two for the 21st Century (2009). A fellow of the Lark Theatre Company, he is the recipient of Hunter College s Irv Zarkower Award for excellence in playwriting. Visit Shuman s theater website, Stage Voices, at www.stagevoices.com."
Advertisement