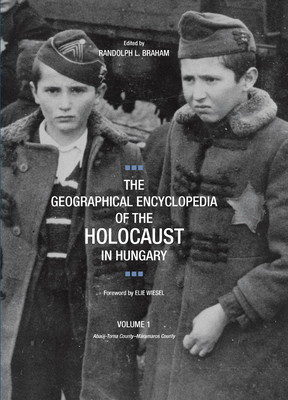 The Geographical Encyclopedia of the Holocaust in Hungary
Hardcover

* Individual store prices may vary.
Description
Winner of the 2013 National Jewish Book Award

The illustrated three-volume Geographical Encyclopedia of the Holocaust in Hungary is a definitive, authoritative, and magisterial resource, thorough and exhaustive. It documents and chronicles the wartime fate of the Jewish communities in that country where virulent antisemitism is anything but dead, even today. With scores of detailed maps and hundreds of photographs, this reference work is organized alphabetically by county, each prefaced with a map and a con­textual history describing its Jewish population up to and into 1944.

Entries track the demographic, cultural, and religious changes in even the smallest communities where Jews lived before their marginalization, dispossession, ghettoization, and, finally, deportation to labor and death camps. The encyclope­dia endows scholars and lay researchers with both panoramic and microscopic views of the virtually last-minute destruction of most of the Jews of Hungary, until then the last sizable sur­viving Jewish community in occupied Europe.
Praise For The Geographical Encyclopedia of the Holocaust in Hungary…
"Indispensable.... To recommend this work to teachers, their stu­dents, and researchers is more than an act of friendship; it is the duty of remembrance that belongs to the realm of the sacred." —Elie Wiesel
"...this reviewer would recommend that you urge your university libraries, as well as those that have a Holocaust section, to purchase this essential reference work." —Jewish Book Council
 
"...the most comprehensive collection of demographic, cultural, and religious descriptions of Jewish communities in Hungary at the onset of the Holocaust.... Very detailed.... Contains an extremely thorough index of place names....Particularly useful for Holocaust scholars, historians [of] Eastern Europe, students, and lay researchers. Essential." —
CHOICE
"A magisterial encyclopedia chronicling the wartime murder of some 600,000 Hungarian Jews by the Hungarian authorities in collaboration with Nazi Germany has taken center place in an exploding controversy over attempts of the current [Hungarian government] to shrug off the country's enduring culpability for Holocaust crimes.... The Geographical Encyclopedia of the Holocaust in Hungary is an exhaustive three-volume research and teaching aid chronicling the annihilation of hundreds of well-established...Jewish communities deeply loyal to the indigenous society that enthusiastically participated in their destruction.... The book has been published at a critical moment...[as] the government...has established a state "historical research" body...whose intention is to rewrite history rather than research it." —Thomas Ország-Land in The Jerusalem Report
Northwestern University Press, 9780810129160, 1640pp.
Publication Date: May 31, 2013
About the Author
Randolph L. Braham is Distinguished Professor Emeritus of Political Science at the Graduate Center of the City University of New York, where he also is director of the Graduate Center's Rosenthal Institute for Holocaust Studies. Additionally, he is the author, coauthor, or editor of more than sixty books, including the monumental The Politics of Genocide: The Holocaust in Hungary.
 
or
Not Currently Available for Direct Purchase