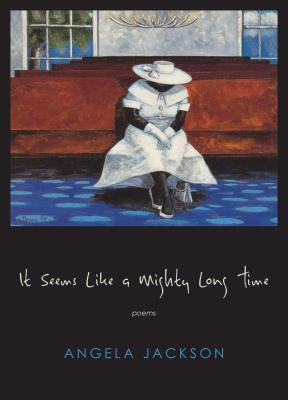 It Seems Like a Mighty Long Time
Poems
Paperback

* Individual store prices may vary.
Description
2015 PEN Open Book Award Finalist

Angela Jackson's latest collection of poetry borrows its title from a lyric in Barbara Lewis's 1963 hit single "Hello Stranger," recorded at Chess Records in Chicago. Like the song, Jackson's poems are a melodic ode to the African American experience, informed by both individual lives and community history, from the arrival of the first African slave in Virginia in 1619 to post-Obama America.
It Seems Like a Mighty Long Time reflects the maturity of Jackson's poetic vision. The Great Migration, the American South, and Chicago all serve as signposts, but it is the complexity of individual lives—both her own and those who have gone before, walk beside, and come after—that invigorate this collection. Upon surveying so vast a landscape, Jackson finds that sorrow meets delight, and joy lifts up anger and despair. And for all this time, love is the agent, the wise and just rule and guide.
Praise For It Seems Like a Mighty Long Time: Poems…
"Born in Mississippi and raised there and in Chicago, Jackson brings both homes on the road of the Great Migration to emotional, sensuous, and social life with finesse and intensity. 'Life gathers meaning as you live it,' writes Jackson, the credo for this reflective and singing book of memories, insight, protest, and wonder." —Booklist, Starred Review

"If one thinks he has risen above the blues, he must be ready to encounter an echo of Bessie and Billie in these poems, and confront truth walking through the door. There's a lot of love, history, dreams, elegies, and hope in this collection  that travels between Mississippi and Chicago, as well as to other places on distant maps. We have been waiting for this cast of characters: from the inquisitive "I" to Mama, father to Aint Emma, Uncle Sweet to Godmother, Ida B. Wells-Barnett to President Obama, and all the names and stations in between." —Yusef Komunyakaa

"Angela Jackson is a poet who has experienced the many formulations of life's challenges. Her poems, especially the selections for her father and mother, are crafted with the care and sensibility in the same neighborhood as Robert Hayden and Gwendolyn Brooks. Ms. Jackson's vision is sub-surface and it enlightens us to the full passages and possibilities of art as poetry and poetry as art.This book—worldly, wise, and wonderful—is packed with master poems one might describe as "seductive whispers."  I implore all to buy, read, share, and recommend this work. Ms. Jackson owns a special and singular voice, it is clear music and breath." —Haki R. Madhubuti, author of YellowBlack:The First Twenty-One Years Of A Poet's Life, A Memoir and Liberation Narratives: New and Collected Poems 1966-2009

"This is Angela Jackson fully empowered. Possessed of ancestral memory and foresight, she takes in the world with a lens as wide as Whitman's, conjuring both history and the present moment from a tall and monumental place: the shoulders of Langston, Gwendolyn, Baldwin. These poems will make you cry. And then they'll make you dance." —Connie May Fowler, author of How Clarissa Burden Learned to Fly and Before Women had Wings
TriQuarterly, 9780810130517, 144pp.
Publication Date: February 15, 2015
About the Author
ANGELA JACKSON is Poet Laureate of Illinois and the author of numerous collections of poetry, including Voo Doo/Love Magic (1974); Dark Legs and Silk Kisses (TriQuarterly, 1993), which won the Carl Sandburg Award; and And All These Roads Be Luminous (TriQuarterly, 1998). She has also written several plays, including Witness! (1978), Shango Diaspora: An African-American Myth of Womanhood and Love (1980), and When the Wind Blows (1984). Her novel Where I Must Go (TriQuarterly, 2009) won the American Book Award. Jackson's honors include a Pushcart Prize, TriQuarterlys Daniel Curley Award, the Poetry Society of America's Shelley Memorial Award, the Academy of American Poets Prize, and grants and fellowships from the National Endowment for the Arts and the Illinois Arts Council. Jackson lives in Chicago.
or
Not Currently Available for Direct Purchase