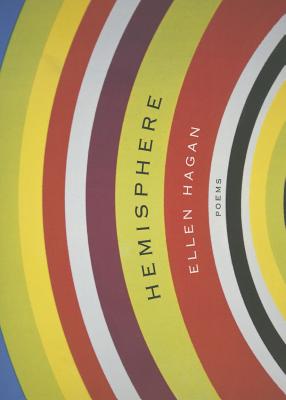 Hemisphere
Poems
Paperback

* Individual store prices may vary.
Description
Winner, 2015 Seven Sisters Book Award for Poetry 

The poems in Hemisphere explore what it means to be a daughter and what it means to bear new life. Ellen Hagan investigates the world historical hemispheres of a family legacy from around the globe and moves down to the most intimate hemisphere of im­pending motherhood. Her poems reclaim the female body from the violence, both literal and literary, done to it over the years. Hagan acknowledges the changing body of a mother from the strains of birth—from the growing body of a child, to the scars left most visibly by a C-section—as well as the changes wrought by age and, too often, abuse. The existence of a hemisphere im­plies a part seeking a whole, and as a collection, Hemisphere is a coherent and cogent journey toward reclamation and wholeness.
Praise For Hemisphere: Poems…
"Ellen Hagan's Hemisphere tugs us right up to the table of life, heaped with savory feasting, sonorous syllables, richly layered avenues/neighborhoods/ classrooms, little lovable people and legacies of ancestors - oh Aziz Bazaz! - in poems which promise the marvelous journey Hagan is traveling has room for us too. This vibrant voice inspires our deepest love and solidarity."--Naomi Shihab Nye, author of 19 Varieties of Gazelle

"Ellen Hagan strives to 'un-tie the trillion tongues the languages coiled' in Hemisphere, a book of deep heart and mother wit. I root for this poet, the head high-stride of her lines and the way she eyes her homecoming as "Irish—sure, mixed w/ Arab & Affrilachian & Filipino." Clearly, she is qualified for this work: a citizen and voice of the world committed to untangling and understanding."--Mitchell L. H. Douglas, author of \blak\ \al-f? bet\

 



"Hemisphere is a sacred prayer for daughters birthed from womb or spirit, a feminist manifesto where Hagan masters vulnerability and shares not just her brave, knowing self but the parts of her that are fragile and questioning. Like the poet herself, these poems have grit and grace. They gather at kitchen tables and remind us that we 'can't have everything' but thankfully, we have this poet, these poems--a kind of map showing us there is no one path to becoming woman, no one place that is home."--Renée Watson, author of This Side of Home



"Listen is her refrain poem after poem. Hagan's voice is confident, compassionate, and infectious. Hagan is stripping bare and revealing the ever evolving woman. Her words split, rearrange, and regenerate. Her words are balm."--Kelly Norman Ellis, author of Offerings of Desire



"Ellen Hagan's Hemisphere explores what it means to be a citizen of and to bring a new child into the world of hyphenated America, a place of numerous and conflicting identities, where we may choose to maintain multiple selves but at a cost. It's her subtle attention to the relationship between form and content that makes Hagan's work so successful, and it's what makes this a collection to be read and studied and savored."--Jehanne Dubrow, author of Red Army Red (TriQuarterly, 2012)


TriQuarterly, 9780810130807, 96pp.
Publication Date: April 10, 2015
About the Author
ELLEN HAGAN is the author of Crowned. She serves as Poetry Chair of the DreamYard Project and coleads the Alice Hoffman Young Writers Retreat at Adelphi University. Hagan's work has been nominated for a Pushcart Prize and has appeared in Underwired Magazine and in the anthologies She Walks in Beauty (edited by Caroline Kennedy) and Southern Sin. She lives with her husband and daughters in New York City.


 
or
Not Currently Available for Direct Purchase