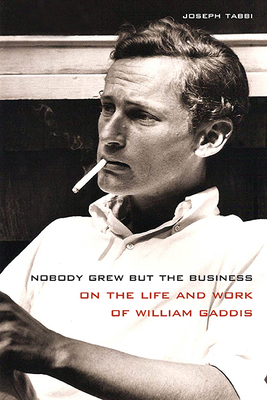 Nobody Grew but the Business
On the Life and Work of William Gaddis
Hardcover

* Individual store prices may vary.
Description
Finalist, 2016 Society for Midland Authors Award for Biography & Memoir

During his lifetime, William Gaddis (1922–1998) evaded biographical questions, never read from his work publicly, and didn't allow his photograph to appear on his books. Before his novel J R (1975) won Gaddis the National Book Award and some measure of renown, he had given up the bohemian world of 1950s Greenwich Village for a series of corporate jobs that both paid the bills and provided an inside view of the encroachment of market values into every corner of American culture.
By illustrating the interconnectedness of Gaddis's life and work, Tabbi, among his foremost interpreters, demystifies the "difficult author" and shows a writer who was as attuned as any to the way Americans talk, and who sensitively chronicled the gradual commodification of artistic endeavor. Illuminating, heartbreaking, and masterful, Tabbi's book gives us the most subtly drawn portrait to date of one of the twentieth century's seminal novelists.
Praise For Nobody Grew but the Business: On the Life and Work of William Gaddis…
"In this long-awaited biography, Tabbi shows that a significant amount of Gaddis's writing was autobiographical, and that Gaddis mined his own family history for characters, themes, and stories. . . . Valuable and worthy. . . . Shines a bright light on a great, enigmatic American novelist." —Publishers Weekly

"I strongly recommend this impressive book, which is as enlightening as it is moving. It opens a new, and in many ways unexpected perspective into one of the major writers of the twentieth century." —American Book Review
 
 "Joseph Tabbi has woven a text of William Gaddis's major themes--of counterfeits, bankers, lawyers, the religious, the nosey most of us--and permits us to follow these paths without dwelling on mere gossip, complaint, or revelation. Joseph Tabbi actually thinks about how public and private lives mingle. He surprises us too, with large and small facts--for instance, I bet most readers don't know that Gaddis once had a job on a dredger on the Mississippi River near St. Louis. What pleases me most: Tabbi stresses, in work of Gaddis's sort, the importance of the music of its prose, as out of the babble of human speech emerge the sympathies of art." —William H. Gass, author of The Tunnel
"In Nobody Grew but the Business, Joseph Tabbi interweaves the skillful communication of unknown details of Gaddis's life with astute readings of his major works. I found it a wonderful book, extraordinarily pleasurable to read and quite moving." —Mark Greif, author of The Age of the Crisis of Man: Thought and Fiction in America, 1933-1973
Northwestern University Press, 9780810131422, 304pp.
Publication Date: May 30, 2015
About the Author
JOSEPH TABBI is a professor of English at the University of Illinois at Chicago. He is the author of Cognitive Fictions and Postmodern Sublime: Technology and American Writing from Mailer to Cyberpunk, editor of the electronic book review, coeditor of Reading Matters: Narrative in the New Media Ecology, and founding member of the Consortium on Electronic Literature.
.

or
Not Currently Available for Direct Purchase