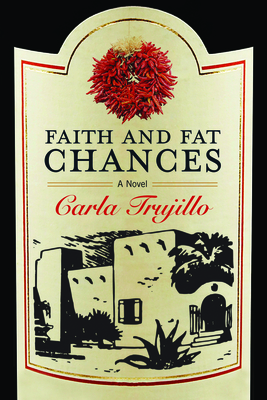 Faith and Fat Chances (Paperback)
A Novel
Curbstone Books 2, 9780810131644, 296pp.
Publication Date: September 30, 2015
* Individual store prices may vary.
Description
Finalist, 2012 PEN/Bellwether Prize for Socially Engaged Fiction 

Carla Trujillo brings to life another side of the fabled city of Santa Fe in this rollicking novel set in Dogtown, a dilapidated neighborhood on the outskirts of town. Home to a hardscrabble community of working people struggling to make a living on meager means, Dogtown is worlds apart from the tourists, artists, and upscale eateries just a stone's throw away. The close-knit neighborhood thrives in its own way, until an entrepreneur arrives with a plan to cast out its occupants and construct a winery in its place.
Led by Dogtown's unofficial mayor, Pepa Romero—an irreverent healer with old-world wisdom and new-age knowledge—the citizens of Dogtown revolt. Using everything at their disposal, including spying, supernatural powers, the law, and individual cunning, they set in motion a thrilling and at times hilarious chain of events that culminates in a storm of epic proportions. With an unforgettable cast of characters, Faith and Fat Chances illuminates the ingenuity and resilience of people fighting to preserve their way of life.
Praise For Faith and Fat Chances: A Novel…
"Carla Trujillo writes with corazon about everyday people for everyday people.Her work is savvy, tough, and laugh-out-loud funny. This is the voice of the new millennium."--Sandra Cisneros
"In Faith and Fat Chances, Carla Trujillo delivers a delightful but thoughtful meditation on eminent domain and atomic experiments and the communities that struggle against them with planning meetings, lawyers, news media and, of course, magic. Pepa, Dogtown's irreverent elder and healer, is simply unforgettable!"—Helena María Viramontes, author of Their Dogs Came with Them
"A humorously enchanting story about the inevitable forces of change on a small, hardscrabble community situated on the marginalized edges of Santa Fe …  Trujillo's voice is at once tender and true, epic and poetic. She seamlessly weaves together the essential elements of great storytelling—a timeless location and unforgettable characters forced into increasingly complex situations."----Ellery Washington, Associate Professor, Pratt Institute