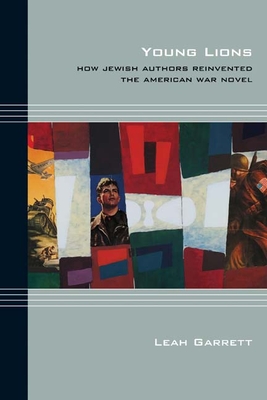 Young Lions (Paperback)
How Jewish Authors Reinvented the American War Novel (Cultural Expressions)
Northwestern University Press, 9780810131750, 288pp.
Publication Date: September 30, 2015
Other Editions of This Title:
Hardcover (9/30/2015)
* Individual store prices may vary.
Description
Finalist, 2015 National Jewish Book Awards in the American Jewish Studies category 

Winner, 2017 AJS Jordan Schnitzer Book Award in the category of Modern Jewish History and Culture: Africa, Americas, Asia, and Oceania

Young Lions: How Jewish Authors Reinvented the American War Novel shows how Jews, traditionally castigated as weak and cowardly, for the first time became the popular literary representatives of what it meant to be a soldier and what it meant to be an American. Revisiting best-selling works ranging from Norman Mailer's The Naked and the Dead to Joseph Heller's Catch-22, and uncovering a range of unknown archival material, Leah Garrett shows how Jewish writers used the theme of World War II to reshape the American public's ideas about war, the Holocaust, and the role of Jews in postwar life. In contrast to most previous war fiction these new "Jewish" war novels were often ironic, funny, and irreverent and sought to teach the reading public broader lessons about liberalism, masculinity, and pluralism.
About the Author
LEAH GARRETT is Loti Smorgon Professor of Contemporary Jewish Life and Culture at Monash University in Australia. She has published three books and numerous articles on Jewish literature. Garrett's scholarship has been devoted to understanding how Jewish authors in an array of languages used their literary discourse to enact, reimagine, and subvert conventional ideas about the relationship between Jews and the modern world.
Praise For Young Lions: How Jewish Authors Reinvented the American War Novel (Cultural Expressions)…
"A scholarly and provocative book" —The Wall Street Journal 

"A probingly intelligent book that shows a rare understanding not just of American Jewish life and culture during World War II and its aftermath, but of U.S. society in all its glorious complexity for all seasons... In today's academic environment [Garrett] is a refreshing exception to the prevailing tendentiousness and fashionable prejudices, a model of accurate and fair characterization." —The Washington Times  
"For anyone who still believes the myth that American Jews didn't talk about the Holocaust until 1961 or 1967, pile these best-sellers onto the mountain of evidence that Jews were fascinated and shaken by the genocide and began to respond vociferously as soon as they learned about it. An important new book... Garrett makes her case very well." —The Forward 

"Leah Garrett's central interest... lies in what she regards as the often overlooked but crucial shift in the genre of the American war novel brought about by the distinctive ways Jewish American writers engaged with the subject of the then-recent war in their fiction, a shift which would significantly influence literary and non-literary representations of war and the military for decades." —Martyrdom and Resistance

"A fascinating study of war novels both familiar and forgotten and a fresh interpretation that illuminates previously hidden aspects of these once popular books, Leah Garrett's lucid study will change how we think about World War II, the Holocaust, and American Jews."—Deborah Dash Moore, Director of the Frankel Center for Judaic Studies and Frederick G.L. Huetwell Professor of History and author of GI Jews: How World War II Changed a Generation

"Theoretically sophisticated and probing, Young Lions is full of insights that are of interest to the literary scholar, the historian, and the student of Jewishness and of American ethnic relations." —Werner Sollers, Henry B. and Anne M. Cabot Professor of English and of African American Studies at Harvard University and author of The Temptation of Despair: Tales of the 1940s
"A masterful exercise in excavation by a superb literary and cultural historian.  Here is an extraordinary tour of literary terrain so familiar and accessible to the common reader and so marginalized in literary criticism.  Leah Garrett opens up for us a crucial chapter in American Jewish cultural expression with consistent intelligence and an infectious enthusiasm."
—Steven J. Zipperstein, Daniel E. Koshland Professor in Jewish Culture and History at Stanford University and author of Rosenfeld's Lives: Fame, Oblivion, and the Furies of Writing

"Young Lions is an important contribution to the fields of Jewish American literature and World War II literature." —Victoria Aarons, author of A Measure of Memory: Storytelling and Identity in American Jewish Fiction
or
Not Currently Available for Direct Purchase