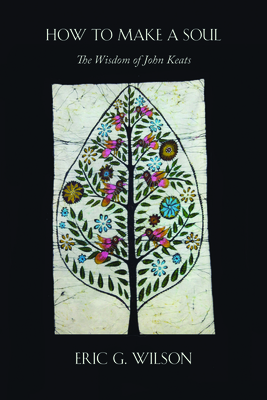 How to Make a Soul (Paperback)
The Wisdom of John Keats
Northwestern University Press, 9780810131934, 176pp.
Publication Date: November 30, 2015
Other Editions of This Title:
Hardcover (11/30/2015)
* Individual store prices may vary.
Description
In this innovative hybrid of biography, memoir, and criticism, Eric G. Wilson describes how John Keats gave him solace during a bout of mental illness in spring 2012. While on a tour of the principal sites in Keats's life—ranging from his London medical school to the small room in Rome where he died—Wilson discovered analogies between the poet's troubles and his own. He was most struck by Keats's enlivening vision of the soul.
For Keats, we don't possess but rather make a soul. We do this by imaginatively transforming our suffering into empathy toward humans and nature alike. Tracking this idea in Keats's tumultuous yet exhilarating life and work, Wilson struggles to envision his depression anew, desperate to overcome the apathy alienating him from his family.
How to Make a Soul offers fresh perspectives on Keats's pragmatism, irony, comedy, ethics, and aesthetics, but is above all a lyrical celebration of those galvanizing instances when life springs into art.
About the Author
ERIC G. WILSON is Thomas H. Pritchard Professor of English at Wake Forest University. His previous books include Everyone Loves a Good Train Wreck: Why Can't Look Away (2012), Against Happiness: In Praise of Melancholy (2009), a Los Angeles Times best seller, and The Mercy of Eternity: A Memoir of Depression and Grace (Northwestern, 2010), among others. He and his work have been featured on NBC's Today, UNC-TV's North Carolina Bookwatch, and NPR's All Things Considered and Talk of the Nation, as well as in Newsweek, the Chicago Tribune, the Los Angeles Times, and the New York Times.
Praise For How to Make a Soul: The Wisdom of John Keats…
"Deeply felt, yet professionally delivered, every chapter breaks down the tumultuous career of the illustrious bard, shining a spotlight on an ode or a sonnet, emphasizing its significance to Keats and its posthumous meaning."
—Foreword Reviews