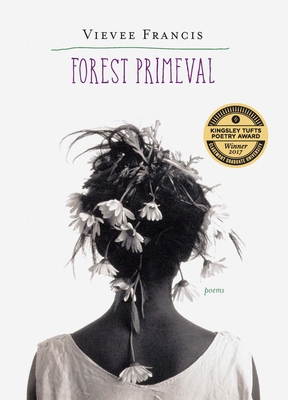 Forest Primeval
Poems
Paperback

* Individual store prices may vary.
Description
Winner, 2017 Kingsley Tufts Poetry Award
Winner, 2016 Hurston/Wright Legacy Award in the Poetry category
Finalist, 2015 Balcones Poetry Prize
Shortlist finalist, 2015 PEN Open Book Award for an exceptional book by an author of color

"Another Anti-Pastoral," the opening poem of Forest Primeval, confesses that sometimes "words fail." With a "bleat in [her] throat," the poet identifies with the voiceless and wild things in the composed, imposed peace of the Romantic poets with whom she is in dialogue. Vievee Francis's poems engage many of the same concerns as her poetic predecessors—faith in a secular age, the city and nature, aging, and beauty. Words certainly do not fail as Francis sets off into the wild world promised in the title. The wild here is not chaotic but rather free and finely attuned to its surroundings. The reader who joins her will emerge sensitized and changed by the enduring power of her work.
Praise For Forest Primeval: Poems…
"Vievee Francis is a maker of magnificent, ferociously intelligent, deeply moving poems, but to me her poems are not just poems and this amazing book isn't just a book. Forest Primeval is a sacred conversation with the reader, wrestling with the distressing angel for all of us, and demanding a blessing."  —Patrick Donnelly



"Some artists encounter a forest, a country landscape of overgrown grass and wild flowers, a stream teaming with fish, and don't simply see sunlight casting a holy gaze on a peaceful scene. Rather they are sensitive to the dark underbrush curling in the forest, the choked grass and flowers vying for space, the ravenous fish devouring a carcass. In Forest Primeval, Vievee Francis cannot look away from this more onerous view—from a landscape formed by the legacy of slavery, oppression, and violence against Black people and, especially, Black women. Fraught with images of confinement and degradation, the book creates a speaker who struggles for survival in a terrain pitted against her freedom. Yet the speaker is neither passive nor simply objectified and subjugated by these experiences; Forest Primeval captures her relentless drive to push through the forest, however deformed or changed it may make her after it transforms her." —Connotation Press



"Whether following her through the landscapes in which she's lived or the landscapes of one's interior, Vievee Francis's bottomless imagination continues to surprise in Forest Primeval. Who wouldn't follow her as 'her eyes scan the horizon for the promise of more,' when she offers so much more here than a turn of a phrase; these poems build a world we all want to inhabit, even when times are tough, and they recall a world we've survived enough to celebrate in a manner that's both dignified and primal like "eloquent tambourines" on a Sunday morning." –A. Van Jordan



"Vievee Francis's poetry is a callback to older days, reexamining the myths that helped build society through the sympathetic lens of a narrator familiar with her characters' hardships. This serves to highlight how means of oppression have not changed, yet also shows how much power people—especially women—can now have, with Little Red Riding Hood pursuing a relationship with the wolf, rather than being na.ve and victimized, or Belle, the Beauty, criticizing the folly of cherishing a rose, in keeping with a modern critique of superficiality. They understand the challenges the narrators face, but never offer pity. Francis instead writes them with undertones of strength, suggesting a means of empowerment in even the most dire circumstances, making Forest Primeval into a fairy tale of its own." –Rain Taxi Review of Books 



 

"The poems in Vievee Francis' Forest Primeval are fearless, full-throated, whip-smart and can come at you from just about any angle—a Grimm's Fairy tale, a Howlin' Wolf lyric, starlings bursting from a chest, a crow's-eye view of Christ on the cross. Indeed, Francis examines the world omni-directionally, so that her subject (or one of them) becomes the way in which the experience of a place, and a time in life, get haunted by the past—by the places and people and stories we carry in our bodies. I trust these brave, prickly, luscious, erotic poems; they instruct me how to face the world without fear and show me how to speak and be heard. 'You hear me don't you? The waves aren't banging the shore/ too loudly are they?' " --Sebastian Matthews


TriQuarterly, 9780810132436, 104pp.
Publication Date: November 30, 2015
About the Author
Longlist finalist, 2015 PEN Open Book Award, for an exceptional book by an author of color 

VIEVEE FRANCIS is author of Horse in the Dark (2012), winner of the Cave Canem Northwestern University Press Poetry Prize. Her work has appeared in various journals and anthologies, including Best American Poetry 2010 and Angles of Ascent: A Norton Anthology of Contemporary African American Poetry. She was the recipient of the 2009 Rona Jaffe Foundation Writers' Award and the 2010 Kresge Artist Fellowship. A Cave Canem Fellow, she is currently an associate editor for Callaloo.