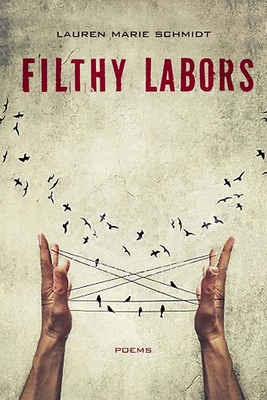 Filthy Labors (Paperback)
Poems
Curbstone Books 2, 9780810134690, 104pp.
Publication Date: April 15, 2017
* Individual store prices may vary.
Description
In Filthy Labors, Lauren Marie Schmidt draws on personal observations from her position as a poetry teacher at a shelter for homeless mothers, as well as her own roles as daughter and sister through times of family turmoil. She condemns the indignities suffered by the poor and the powerless and praises the work of those who do the caretaking. Here is poetry in the great tradition of social justice literature going back to Walt Whitman. Organized around the Catholic sacraments, these poems call upon Whitman directly, for his words replace the liturgical text of these rituals to rejoice in the redemptive power of poetry in the absence of religion's saving grace.
 
About the Author
LAUREN MARIE SCHMIDT is the author of three other collections of poetry: Two Black Eyes and a Patch of Hair Missing; The Voodoo Doll Parade, selected for the Main Street Rag Author's Choice Chapbook Series; and Psalms of the Dining Room, a sequence of poems about Schmidt's volunteer experience at a soup kitchen in Eugene, Oregon. Her work has appeared in journals such as North American Review, Alaska Quarterly Review, Rattle, Nimrod, Painted Bride Quarterly, PANK, New York Quarterly, Bellevue Literary Review, and The Progressive, among others. Her awards include the So to Speak Poetry Prize, the Neil Postman Award for Metaphor, the Janet B. McCabe Poetry Prize, and the Bellevue Literary Review' s Marica and Jan Vilcek Prize for Poetry.
 
Praise For Filthy Labors: Poems…
"If love trumps hate, then these are poems we need now more than ever in this, the Age of Trump. Here are clear-eyed, hard-hitting poems about the Filthy Labors of love, not only for the immediate family, but for the human family, even—or especially—the most despised among us." —Martín Espada

"Lauren Marie Schmidt's newest collection of poetry, Filthy Labors, roars with boundless defiant empathy on every page. Schmidt's poetry...calls us into radical sympathy with others, grounded in the conviction that poetry might shine and quench and slip its tongue between our lips and pray." —Dante Di Stefano, author of Love is a Stone Endlessly in Flight

"Filthy Labors is a collection of songs, calling poetry to its highest order: to sing for those who have lost the ability to speak or never knew they had a voice." —North American Review
"Lauren Marie Schmidt gets better and better. In Filthy Labors she's given us equal parts grit and elegance. The poems are about encounters with people who have stumbled into the dark in their lives. A collection that will often be read in one sitting, there is no poem that is not superbly turned, full of dark wit, and powered by heart." —Doug Anderson, author of Blues for Unemployed Secret Police

"True to Whitman, Schmidt's poetry expresses an all-embracing, generous, boldly truthful sensibility. Love never makes the Times or Twitter, yet it blossoms everywhere as unremarked as dandelions along the interstate. Filthy Labors sings out of love. Even if only for a brief moment, its song drowns out the vitriolic cacophony twittering all around us." —Empty Mirror 
"The range of Schmidt's vision is exquisite, and the unity of this work is inspiring. The whole of the poems form a single visionary revelation, a sustained focus that is very rare these days. No one, I believe, has ever written with such delicate honesty and compassion about shelters for homeless women. Filthy Labors is an indelible whole, an articulation of convictions deeply held and a life fully lived." —Sam Hamill, author of Almost Paradise, Dumb Luck, and Destination Zero
or
Not Currently Available for Direct Purchase