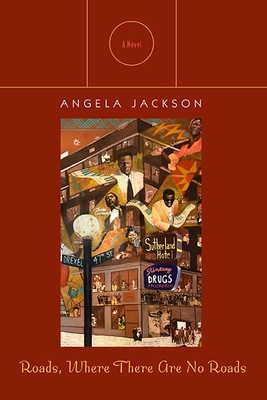 Roads, Where There Are No Roads (Paperback)
A Novel
Triquarterly, 9780810134720, 368pp.
Publication Date: April 15, 2017
* Individual store prices may vary.
Description
Winner, 2018 John Gardner Fiction prize

In this highly anticipated sequel to her acclaimed first novel, Where I Must Go, Angela Jackson continues the remarkable story of Magdalena Grace. As a black student at the predominantly white Eden University, Maggie found herself deeply involved in conflict. Now, out in the wider world, she and her beloved Treemont Stone evolve into agents of change as they become immersed in the historical events unfolding around them—the movements advocating for civil rights, black consciousness, black feminism, the rights of the poor, and an end to the war in Vietnam. Rendered in prose so lyrical and luminous as to suggest a dream, Roads, Where There Are No Roads is a love story in the greatest sense, celebrating love between a man and a woman, between family members, and among the members of a community whose pride pushes them to rise up and resist. This gorgeously written novel will resonate with readers today as incredibly relevant, uplifting hearts and causing eyes to water with sorrow and delight. 
About the Author
ANGELA JACKSON is the author of numerous collections of poetry, including Voo Doo/Love Magic (1974); Dark Legs and Silk Kisses (TriQuarterly, 1993), which won the Carl Sandburg Award; And All These Roads Be Luminous (TriQuarterly, 1998); and It Seems Like a Mighty Long Time (TriQuarterly, 2015). She has also written several plays, including Witness! (1978), Shango Diaspora: An African-American Myth of Womanhood and Love (1980), and When the Wind Blows (1984). Her novel Where I Must Go (TriQuarterly, 2009) won the American Book Award. Jackson's honors include a Pushcart Prize, TriQuarterly's Daniel Curley Award, the Poetry Society of America's Shelley Memorial Award, the Academy of American Poets Prize, and grants and fellowships from the National Endowment for the Arts and the Illinois Arts Council. Jackson lives in Chicago.
 
Praise For Roads, Where There Are No Roads: A Novel…
"In Angela Jackson's new novel, love (of another, of a truth, of a place, of a cause) is courage: through obstacles, failures, frustrations, and enemies, it searches for its way forward.  A blind man becomes sighted, a silent woman speaks the deep truths, many persons seek out their roles in an era of crisis, and the reader becomes the intimate witness of a realm both real and imagined. Every chapter seems a fully realized and richly various world. Jackson's language is beyond compare—at times a beautiful down-home lyricism, at times metaphorical in a profound way."  —Reginald Gibbons, Frances Hooper Professor of Arts and Humanities at Northwestern University and author of Slow Trains Overhead: Chicago Poems and Stories