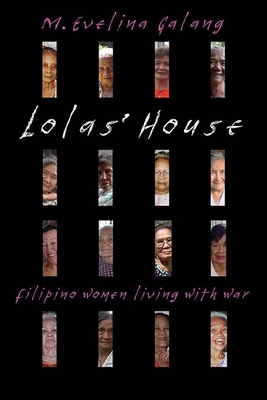 Lolas' House (Paperback)
Filipino Women Living with War
Curbstone Press, 9780810135864, 280pp.
Publication Date: September 15, 2017
Description
Lolas' House tells the stories, in unprecedented detail, of sixteen surviving Filipino "comfort women." During World War II more than 1,000 Filipino women and girls were kidnapped by the Imperial Japanese Army. They were taken from their homes, snatched from roadsides, and chased down in fields. Overall the Japanese forced 400,000 women across Asia into sexual slavery. M. Evelina Galang began researching these stories in the 1990s as 173 lolas, "grannies" in Tagalog, emerged after decades of shame and silence to demand recognition and justice from the Japanese government. Galang enters into the lives of the surviving women at Lolas' House, a community center for comfort women's organizing in metro Manila. She accompanies them to the sites of their abduction and protests with them at the gates of the Japanese embassy. In Lolas' House, each woman gives her testimony, even though the women relive their horror at each telling, they offer their stories so that no Filipina, no woman anywhere, should suffer wartime rape and torture again. Lolas' House is not only a book of testimony and documentation, it is a book of witness, of survival, and of the female body. Intensely personal and globally political, it is the legacy of Lolas' House to the world.
About the Author
M. EVELINA GALANG has been researching and documenting the lives of surviving Filipino "comfort women" since 1999. She is the author of several books and the editor of Screaming Monkeys: Critiques of Asian American Images. Galang directs the M.F.A. Creative Writing Program at the University of Miami and is core faculty and board member of Voices of Our Nations Arts Foundation (VONA).
Advertisement