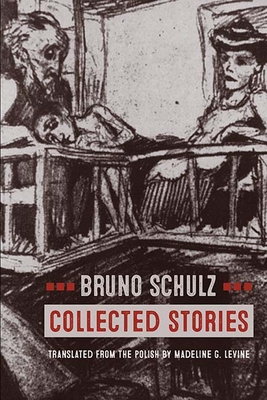 Collected Stories
Paperback

* Individual store prices may vary.
Description
Winner of the 2019 Found in Translation Award

Collected Stories is an authoritative new translation of the complete fiction of Bruno Schulz, whose work has influenced writers as various as Salman Rushdie, Cynthia Ozick, Jonathan Safran Foer, Philip Roth, Danilo Kiš, and Roberto Bolaño.

Schulz's prose is renowned for its originality. Set largely in a fictional counterpart of his hometown of Drohobych, his stories merge the real and the surreal. The most ordinary objects—the wind, an article of clothing, a plate of fish—can suddenly appear unfathomably mysterious and capable of illuminating profound truths. As Father, one of his most intriguing characters, declaims: "Matter has been granted infinite fecundity, an inexhaustible vital force, and at the same time, a seductive power of temptation that entices us to create forms."

This comprehensive volume brings together all of Schulz's published stories—Cinnamon Shops, his most famous collection (sometimes titled The Street of Crocodiles in English), The Sanatorium under the Hourglass, and an additional four stories that he did not include in either of his collections. Madeline G. Levine's masterful new translation shows contemporary readers how Schulz, often compared to Proust and Kafka, reveals the workings of memory and consciousness.
Praise For Collected Stories…
"Now, with the appearance of this finely realized new translation by Madeline G. Levine, Schulz is poised for rediscovery by a new generation of readers. Ms. Levine sticks closely to the syntax of the original while giving free rein to the wildness of Schulz's imagery and the often nonsensical sequences of events... Collected Stories is a remarkable legacy." —The Wall Street Journal

"Levine's translation is not only exquisitely composed and fastidiously accurate, but it cleaves so tightly to the original that it is easy to imagine that these are the words that Schulz would have written in his own hand, had he written in English. It is without question a translation masterwork. Anyone who does not appreciate what Levine has done here does not really appreciate Schulz. Levine conveys the full power of an art that clearly articulates reality while reinvesting it with enchantment... Levine finally allows English-language readers to spend time with the living Bruno Schulz—serious, funny and breathtakingly real." —Times Literary Supplement

"[Wieniewska's] translations introduced Schulz's work to the English-speaking world, but they were always inadequate... While Wieniewska contorted Schulz to accommodate him to English, Levine deforms English to accommodate it to Schulz. Though Schulz's setting and form are largely fixed, his imagination seems boundless. Levine's rendering of Schulz's prose captures its bewildering sensuality." —The New Inquiry
"A major author who deserves a broad readership, now well-served by this rich collection." —
Kirkus Reviews
, Starred Review 
"I first encountered the brilliant, mesmerizing, disturbing, and delightful writing of the Polish genius Bruno Schulz on the installment plan . . . Each time the encounter has been revelatory, but not until this recent complete representation of his unique talents did I garner the full impact of his accomplishment." —
Critics At Large
"Levine has taken on the monumentally difficult task of retranslating Bruno Schulz's stories, and her work is both courageous and impressive. Her fidelity to the original text ensures that her translation will make a significant contribution to the reception of Bruno Schulz in English." —Stanley Bill, University of Cambridge
Northwestern University Press, 9780810136601, 288pp.
Publication Date: March 15, 2018
About the Author
BRUNO SCHULZ (1892–1942) was a Polish Jew born in Drohobych, at the time a city in Austrian Galicia. He published two volumes of short fiction during his life. Shot in the street by a Nazi officer in German-occupied Drohobych, Schulz achieved posthumous fame as one of the most influential European fiction writers of the twentieth century.

MADELINE G. LEVINE is Kenan Professor of Slavic Literatures Emerita at the University of North Carolina, Chapel Hill. Her translations from the Polish include The Woman from Hamburg and Other True Stories by Hanna Krall, Bread for the Departed by Bogdan Wojdowski, and four volumes of prose by Czeslaw Milosz, including Beginning with My Streets: Essays and Recollections and Milosz's ABC's.

RIVKA GALCHEN is the author of three books, including the novel Atmospheric Disturbances. A frequent contributor to the New Yorker,the London Review of Books, and the New York Times, she has been awarded numerous prizes and fellowships and was included on the New Yorker's "20 under 40" list of fiction writers.