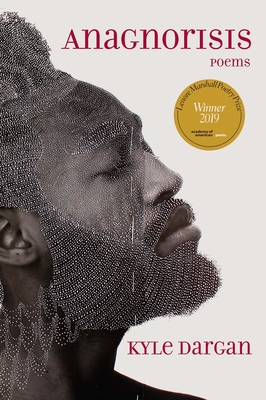 Anagnorisis
Poems
Paperback

* Individual store prices may vary.
Description
Winner of the 2019 Academy of American Poets Lenore Marshall Poetry Prize

In Anagnorisis: Poems, the award-winning poet Kyle Dargan ignites a reckoning. From the depths of his rapidly changing home of Washington, D.C., the poet is both enthralled and provoked, having witnessed-on a digital loop running in the background of Barack Obama's unlikely presidency—the rampant state-sanctioned murder of fellow African Americans. He is pushed toward the same recognition articulated by James Baldwin decades earlier: that an African American may never be considered an equal in citizenship or humanity.

This recognition—the moment at which a tragic hero realizes the true nature of his own character, condition, or relationship with an antagonistic entity—is what Aristotle called anagnorisis. Not concerned with placatory gratitude nor with coddling the sensibilities of the country's racial majority, Dargan challenges America: "You, friends- / you peckish for a peek / at my cloistered, incandescent / revelry-were you as earnest / about my frostbite, my burns, / I would have opened / these hands, sated you all."

At a time when U.S. politics are heavily invested in the purported vulnerability of working-class and rural white Americans, these poems allow readers to examine themselves and the nation through the eyes of those who have been burned for centuries.
Praise For Anagnorisis: Poems…
"Dargan takes no prisoners in this book, himself or others. He looks our society right in its one Cyclopean eye, seeing, sadly and bitterly that there's always been a widening circle of murder of black males." —
Washington Independent Review of Books
"In Dargan's
Anagnorisis
, what can be called 'disillusionment' is life torquing into complication and deeper possibilities. Here, communities in the micro and macro mangle and contort the speaker out of his focus on systems of oppression and onto oppressed people, decimating all distractions for charismatic calls for joy-'Yes, I am thankful, / but I cannot accommodate you / inside my gratitude,'—such that the speaker can, with wisdom, 'know how a song / do & don't tell.' Dargan leaves no social upheaval untouched. Ecopoetic, internationally erudite, and chiseled by love, these poems 'know the phenomenon that is judgment,' making a torch song into a brilliant resurrection." —Phillip B. Williams, author of
Thief in the Interior
"The poems in Anagnorisis are weightlifting; repeatedly pushing the burden of  current events—the gentrification of DC, the numberless black deaths at the hands of authority, U.S./Global relations, our rapidly altering ecosystem—away from chest, trying to hold them at a distance, only to pull them back and attempt to master the muscle required to survive and write and celebrate in times like these. 'Rage would be a word to fit in the mouth/ had the mouth not grown small from watching,' Dargan writes, and does the work of gracefully making room in his poems to get eye-to-eye with a people's mammoth rage, and also remind us of the daily, small, and enduring hopes we must have for a better nation and world." —Elizabeth Acevedo, author of The Poet X
"
Anagnorisis
 may well be Kyle Dargan's most virtuosically conceived book, while being his most naked, brutally honest revelation.  It's not often we see these extremes in such a poised and powerful balance." —Ed Roberson, author of
Closest Pronunciation
and 
To See the Earth Before the End of The World
"
Anagnorisis
is a book of riveting intimacy and of national significance; a reckoning with this terrifying immediate moment: Trump-times and macho disasters. Yet it is also a book of unsentimental and profound hope in flesh and blood everyday-living people. It is a book of "Dee Cee" and a book of America. Dargan's words are restrained, matter of fact and yet spell-binding. The landscape, the sound and the rhythm are gorgeous and true.  His stories are throat catching.
Anagnorisis
will endure. Dargan is at once our poet and our poetics." —Dr. Imani Perry, Hughes-Rogers professor of African American studies at Princeton University and author of 
May We Forever Stand: A History of the Black National Anthem
TriQuarterly, 9780810137844, 104pp.
Publication Date: September 15, 2018
About the Author
KYLE DARGAN is the author of four collections of poetry—Honest Engine (2015), Logorrhea Dementia (2010), Bouquet of Hungers (2007), and The Listening (2004). For his work, he has received the Cave Canem Poetry Prize, the Hurston/Wright Legacy Award, and grants from the D.C. Commission on the Arts and Humanities. His books also have been finalists for the Kingsley Tufts Poetry Award and the Eric Hoffer Book Award Grand Prize. Dargan has partnered with the President's Committee on the Arts and Humanities to produce poetry programming at the White House and Library of Congress. He has worked with and supports a number of youth writing organizations, such as 826DC, Writopia Lab, and the Young Writers Workshop. He is currently an associate professor of literature and director of creative writing at American University, as well as the founder and editor of POST NO ILLS magazine. 
or
Not Currently Available for Direct Purchase