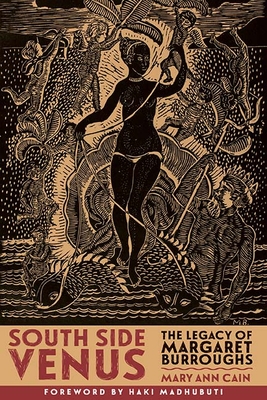 South Side Venus (Paperback)
The Legacy of Margaret Burroughs
Northwestern University Press, 9780810137950, 240pp.
Publication Date: October 15, 2018
* Individual store prices may vary.
Description
The extraordinarily productive life of curator, artist, and activist Margaret Burroughs was largely rooted in her work to establish and sustain two significant institutions in Chicago: the South Side Community Art Center (SSCAC), founded in 1940, and the DuSable Museum of African American History, founded in her living room in 1961.

As Mary Ann Cain's South Side Venus: The Legacy of Margaret Burroughs reveals, the primary motivations for these efforts were love and hope. Burroughs was spurred by her love for Chicago's African American community—largely ill served by mainstream arts organizations—and by her hope that these new, black-run cultural centers would welcome many generations of aspiring artists and art lovers.

This first, long–awaited biography of Burroughs draws on interviews with peers, colleagues, friends, and family, and extensive archival research at the DuSable Museum, the Art Institute of Chicago, and the Chicago Public Library. Cain traces Burroughs's multifaceted career, details her work and residency on Chicago's South Side, and highlights her relationships with other artists and culture makers. Here, we see Burroughs as teacher and mentor as well as institution builder.

Anchored by the author's talks with Burroughs as they stroll through her beloved Bronzeville, and featuring portraits of Burroughs with family and friends, South Side Venus will enlighten anyone interested in Chicago, African American history, social justice, and the arts.
About the Author
MARY ANN CAIN's critical work on writing theory and praxis includes a collaborative book (with Michelle Comstock and Lil Brannon), Composing Public Space: Teaching Writing in the Face of Private Interests. Her fiction, nonfiction essays, and poems have appeared in numerous literary journals, including the Denver Quarterly, The Sun: A Magazine of Ideas, the Bitter Oleander, and the North American Review. She is currently a professor of English at Purdue University Fort Wayne where she teaches fiction, creative nonfiction, rhetoric, and women's studies.
Praise For South Side Venus: The Legacy of Margaret Burroughs…
"...Cain offers invaluable insights into Chicago's cultures and politics as well as Burroughs' brilliance, progressive vision, generosity of spirit, sterling work ethic, resilience, and friendships with artists and writers, including Gwendolyn Brooks and Haki Madhubuti." —Booklist
"Without question, this is the most serious, scholarly biography of Margaret Burroughs to date; successfully narrating the prescient details of her long life. It will appeal not only to scholars interested in particular cultural and intellectual moments in Black Chicago history, but to general readers interested in African American history, the city of Chicago, and its cultural institutions." —Bill V. Mullen, author of Popular Fronts: Chicago and African-American Cultural Politics, 1935–46
"Cain (Down from Moonshine) delivers on the promise of this profound biography's subtitle by lauding the intentionally crafted legacy of Margaret Burroughs... [an] inspiring account of a force of nature." —Publishers Weekly