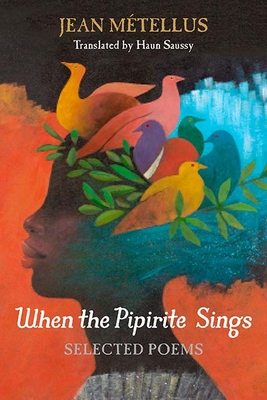 When the Pipirite Sings (Paperback)
Selected Poems
Northwestern University Press, 9780810139787, 104pp.
Publication Date: April 15, 2019
* Individual store prices may vary.
Description
When the Pipirite Sings gathers poems by the noted Haitian poet, novelist, and neurologist Jean Métellus, who died in January 2014. Along with other signature works, this volume includes the first English translation of Métellus's visionary epic poem, "Au pipirite chantant" ("When the Pipirite Sings"), widely regarded as his masterpiece.

Translated by formidable comparative literature scholar Haun Saussy, When the Pipirite Sings expresses an acute historical consciousness and engages recurrent Haitian themes—the wrenching impact of colonialism and underdevelopment, the purposes of education, and the merging of spiritual and temporal power. And, as always with Métellus's poetry, the range of voices and points of view evokes other genres, including fiction and cinema. This eminently readable book has formal and thematic ties to Aimé Césaire's Notebook of a Return to the Native Land, central to the canon of French-language postcolonial writings.

In addition to many books of poetry, Métellus published novels, chiefly about the remembered Haiti of his youth, and plays about the conquest of the Caribbean. His nonfiction included reflections on Haitian history and politics, on the iconography of slave emancipation, and studies of aphasia and dyslexia.
About the Author
JEAN METELLUS (1937–2014) was the author of several novels, books of poetry, and plays, all written in French and largely untranslated. In 1959, to escape the Duvalier dictatorship, Métellus moved from his native Haiti to Paris, where he studied linguistics and medicine, specializing in neurology. The magazine Les lettres nouvelles published his poem "Au pipirite chantant" in 1973, beginning his career as a poet and writer.

HAUN SAUSSY is a professor at the University of Chicago, where he teaches in the departments of comparative literature, East Asian languages and literatures, and social thought. A former president of the American Comparative Literature Association, he is a member of the American Academy of Arts and Sciences. He has published numerous works on literary theory, intercultural comparison, translation, and poetics.
Praise For When the Pipirite Sings: Selected Poems…
"Métellus' lush epic poem about his native Haiti, originally published in 1978 and now expertly translated into English for the first time, will introduce readers to this giant voice for Haiti, its people, and the complicated colonial history it has endured. . . An exciting and important collection." —
Booklist

"Jean Métellus's strikingly original voice is finally available in a splendid translation that captures the epic sweep and tragic thrust of his hallucinatory style. Haun Saussy renders with subtle poetic nuances the poet's engagement with Haiti's mythic gods, its landscapes and natural disasters, and the heartbreaking fate of its children. It will now be possible to teach Métellus in world literature courses, alongside Homer, Aimé Césaire, René Depestre, or Derek Walcott, and appreciate anew his remarkable talent and singular vision." —Françoise Lionnet, author of Postcolonial Representations: Women, Literature, Identity

"Haiti's contributions to literature have thus far been scanted in the English-speaking world. Jean Métellus, physician-poet, has remained obscure to those who might read Rimbaud or Valéry. This is all about to change through this book, the expression of both Métellus's and Saussy's love for Haiti. When the Pipirite Sings should remain a standard-setting effort in the broader project of translating an increasingly disparate world." —Paul Farmer
"Saussy's translation remarkably preserves Métellus's poetic imagination and the Haitian matrix in which his entire literary work is inscribed. It skillfully transfers into English the coalescence of the poet's native land with the universal, the deliberate language turbulence, the 'thought-rhythm-images' association, the words' effervescence, and the sparkling images of Metellus's poetic language." —Elisabeth Mudimbe-Boyi, Professor Emerita of French and Comparative Literature, Stanford University

"That Haun Saussy has translated Métellus complex and discursive Haitian Francophone original into a solid English is a feat worthy of note. That this first poetic work of the prolific Jean Metellus will be known to scholars and students of Haitian literature through a new translation is equally notable and should be celebrated."—Danielle Legros Georges, Poet Laureate, City of Boston
 
"This collection of poems, originally published forty years ago, is already a classic in the French and francophone literary world. This brilliant English translation could not come any sooner. With a unique blend of cadence and precision, Haun Saussy extricates the essence of Métellus's powerful and poetic voice one would have thought was only translatable in Haitian Kreyòl." —Daniel Desormeaux, University of Chicago

"When the Pipirite Sings is a majestic and masterful work that delves into Haiti's entrails to inspire humility. Every crafted line channeled through Métellus has been honorably translated by Saussy to reckon with the complexities and surrealities of his pays natal. Indeed, this collection is evidence that only poetry can teach us to love the first Black Republic with maturity." —Gina Athena Ulysse, author of Why Haiti Needs New Narratives