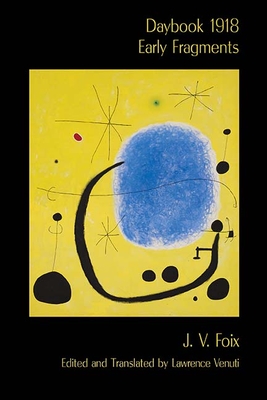 Daybook 1918
Early Fragments
Paperback

* Individual store prices may vary.
Description
Daybook 1918: Early Fragments is the first substantial selection in English from the prose poetry of the major Catalan writer J. V. Foix. The core of Lawrence Venuti's edition is forty-five prose poems from the beginning of Foix's career, supplemented by additional poems in prose and verse, prose fictions, and essays that immerse the reader in the heady cultural ferment of early twentieth-century Catalonia.

Deeply committed to the European avant-gardes, Foix explored experimental poetics in the service of Catalan nationalism as Catalonia itself carried out its notable experiments with autonomous government on the eve of Franco's dictatorship. Foix was particularly attracted to the revolutionary energy of French surrealism, and he endows Catalan life and landscapes with a dreamlike quality while staging a series of unsettling encounters with the femme fatale Gertrudis. 

In translations praised as both fluid and resonant, Venuti plumbs the expressive capabilities of English to evoke the profound impact that the Catalan texts had on their first readers. Daybook 1918: Early Fragments establishes Foix as a key figure in international modernism.
Praise For Daybook 1918: Early Fragments…
"Venuti is a sage and lyric guide through Foix's strangeness... Foix's poems are probably best read between midnight and dawn—or any similar time when we are most attuned to our shadow selves. Added bonus: a few excellent essays on poetry, consciousness, and art by Foix." —The Millions

"J.V. Foix's prose poems evoke oneiric landscapes of striking everydayness, as if the reader, walking down a familiar street, had missed a step and fallen into a magical medium. These poems, hovering in the twilight zone between dreaming and wakefulness, often have an emblematic tone reminiscent of Kafka's parables." —Joan Ramon Resina, author of Iberian Modalities 

"Just as Latin American surrealism is distinct from French surrealism, J. V. Foix's Catalan surrealism—if that's what his dazzling wormholes through convention, his "irregular, obscene curves" through narrative must be called—is a genre of its own, a parallel evolution of sleight-of-hand, a distant and overlooked species of literature as winning and marvelous as the platypus. Although in Catalonia he's a beloved icon, Foix is practically unknown in the United States. The introduction to this fulsome translation by Lawrence Venuti is an art in itself, but the art intensifies when the introduction ends: Foix comes alive in English!" —Forrest Gander, author of Core Samples from the World and Be With

"Foix's Daybook 1918 is the least-known but perhaps finest example of surrealist prose poem. Partially inspired by Apollinaire and Breton, Foix took surrealist imagination to places only dared by his friend Dalí. Reading this book is an absolute must for anybody interested in European avant-garde literature and aesthetics." —Enric Bou, author of Daliccionario: Objetos, Mitos y Simbolos de Salvador Dalí

"You could call these pieces distinctly odd—they are!—and riddled with astonishing images and amazing passages that reveal Foix's relationship to surrealism, though as Venuti points out, that relationship is more as precursor than as inheritor. And while the images may be Foix's, the passages are entirely Venuti's, sculpted in an alert and agile prose that echoes the time, place, and tone of the original while making the most of the sonorous potential of English. His excellent introduction both contextualizes the work and offers historical background relevant to contemporary Catalonian culture and politics." —Cole Swensen, translator of the PEN Literary Translation award-winning work by Jean Frémon, Island of the Dead.
Northwestern University Press, 9780810140653, 208pp.
Publication Date: September 15, 2019
About the Author
J. V. FOIX (1893–1987) was an influential poet, essayist, journalist, and figure in Catalan letters. He was active in the Catalan nationalist movement and instrumental in introducing the modernist avant-gardes into Catalonia. His poetry is distinguished by an experimentalism that synthesizes medieval literary traditions with modern tendencies like surrealism. 

LAWRENCE VENUTI, a professor of English at Temple University, is a translation theorist and historian as well as a translator from Italian, French, and Catalan. He is the author, editor, or translator of twenty-five books, including The Translator's Invisibility: A History of Translation, The Translation Studies Reader, and Antonia Pozzi's Breath: Poems and Letters.
or
Not Currently Available for Direct Purchase