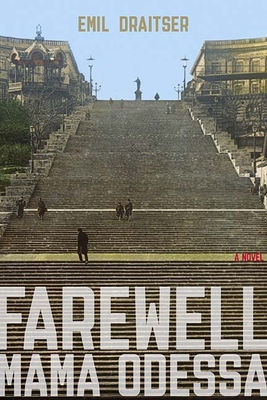 Farewell, Mama Odessa (Paperback)
A Novel
Northwestern University Press, 9780810141087, 248pp.
Publication Date: January 15, 2020
* Individual store prices may vary.
Description
Set in the summer of 1979 at the height of the movement to free Soviet Jewry, Farewell, Mama Odessa is an autobiographical novel whose intertwined storylines follow a variety of people—dissidents, victims of ethnic discrimination, and black marketeers among them—as they bid farewell to their beloved hometown of Odessa, Ukraine, and make their way to the West. At the book's center is Boris, a young writer thwarted by state censorship and antisemitism. With an Angora kitten for his companion and together with other émigrés, he puts the old country in his rear-view mirror and sets out on a journey that will take him to Bratislava, Vienna, Rome, and New York on his way to Los Angeles. Will Boris be able to rekindle his creative passion and inspiration in the West? Will other Jewish émigrés fit into the new society, so much different than the one they left behind? With humor and compassion, Farewell, Mama
Odessa describes the émigrés' attempts at adjustment to the free world. 
About the Author
EMIL DRAITSER is the award-winning author of twelve volumes of artistic and scholarly prose, including Stalin's Romeo Spy, Shush! Growing Up Jewish under Stalin: A Memoir, and Forbidden Laughter: Soviet Underground Jokes. He is a professor emeritus of Russian at Hunter College of the City University of New York.
Praise For Farewell, Mama Odessa: A Novel…
"The characters of Emil Draitser's amazing new work find themselves balancing between the two worlds. Their souls belong to Russia, but their aspirations are tied to the West. There is no better opportunity to show the dark comedy of immigration, and Emil Draitser does this with more humor, intelligence, and compassion than any other writer." —Laura Vapnyar, Columbia University, novelist and New Yorker contributor

"Drawing on the rich tradition of Odessan humor, this captivating book chronicles the experience of emigration from the former Soviet Union at a time when leaving the country for good was an involved and dicey business, often verging on the grotesque and absurd." —Tomas Venclova, Yale University

"Although Emil Draitser's work is saturated with humor—dwellers of Odessa, the 'capital of Russian humor,' cannot be portrayed otherwise—it is a serious book, an excellent insight into the Soviet Jewish psyche of the 1970s." —Gennady Estraikh, New York University

"Stuffed with memorable characters, Farewell, Mama Odessa rolls along with a tender, satiric pitch that's almost musical. A book both mischievous and openhearted." —Sana Krasikov, novelist, award-winning contributor to New Yorker and Atlantic

"The story of two lives in Soviet Odessa of the 1970s, as colorful and funny as an Odessa joke, as brilliant as the Black Sea on a sunny day. Emil Draitser's evocative writing is based on his personal experience of crossing the border between the grey repressive Soviet Union and the unknown Western world. A captivating read." —Elena Gorokhova, NYT bestselling author of A Mountain of Crumbs and Russian Tattoo

"Emil Draitser, my fellow former Soviet subject, whose writing flows freely and strongly, is one of the keenest and most genuine among all witnesses to, and chroniclers of, the bygone world of the ill-starred Soviet Atlantis. His voice, at once poignant, full of vigor, and suffused with memory's sunny warmth, manages to capture the very essence of the unrepeatably lovely and idiosyncratic Black Sea-bound city of Odessa. This book is a pure pleasure to read." —Mikhail Iossel, Concordia University, Montreal, Canada, New Yorker contributor

"Emil Draitser's new book enhances his reputation as a talented storyteller and satirist. The book reminds us how suspended between two different worlds, all exiles must feel in the face of the unknown . . . Only by considering the varied perspectives of Draitser's heteroglossia can we understand what it means to leave the country of one's birth in search of the American dream." —Tatyana Novikov, University of Nebraska

"Draitser's book is not only about the travails of exiles, but also about the most powerful innate motivation that drives many people to leave the country they were born and raised and head for America, about their hopes and dreams, their aspirations to achieve their full human potential." —Victor Dmitriev, University of Oklahoma

"Funny and affecting . . . I love the characters." —Anya Ulinich, award-winning author of Petropolis and Lena Finkel's Magic Barrel

"Farewell, Mama Odessa is a compassionate and timely novel. It brings to life the hopes, fears, and practical realities involved in exile and flights to freedom, honoring those who risked everything and generating compassion for today's refugees." —Kristine Morris, Foreword Reviews

"Making Boris a writer like himself gives Draitser the opportunity to pepper the novel with references both overt and parodic to Russian and Soviet literature, especially its Jewish and Odessan variants. The hapless schmendricks, savvy blackmarketeers, charming hucksters, and petty gangsters among the Odessans both at home and abroad recall the works of classic Odessan writers like Isaac Babel, Ilya Ilf, Evgeny Petrov, and Yuri Olesha." —Oleg Ivanov, Los Angeles Review of Books