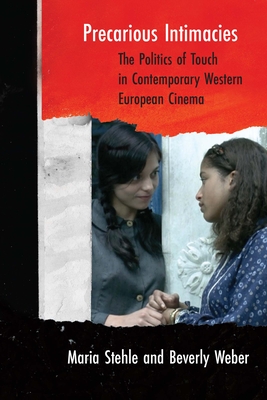 Precarious Intimacies
The Politics of Touch in Contemporary Western European Cinema
Hardcover

* Individual store prices may vary.
Other Editions of This Title:
Paperback (8/15/2020)
Description
Drawing on and responding to the writings of theorists such as Judith Butler, Sara Ahmed, Lauren Berlant, and Lisa Lowe, this book proposes the notion of "precarious intimacies" to navigate a dilemma: how to recognize, affirm, and value love, touch, and care while challenging the racialized and gendered politics in which they are embedded.
 
Twenty-first-century Europe is undergoing dramatic political and economic transformations that produce new forms of transnational contact as well as new regimes of exclusion and economic precarity. These political and economic shifts both circumscribe and enable new possibilities for intimacy. Many European films of the last two decades depict experiences of political and economic vulnerability in narratives of precarious intimacies. In these films, stories of intimacy, sex, love, and friendship are embedded in violence and exclusion, but, as Maria Stehle and Beverly Weber show, the politics of touch and connection also offers avenues to theorize forms of attention and affection that challenge exclusive notions of race, citizenship, and belonging.
 
Precarious Intimacies examines the aesthetic strategies that respond to this tension and proposes a politics of interpretation that identifies the potential and possibility of intimacy.
 
Praise For Precarious Intimacies: The Politics of Touch in Contemporary Western European Cinema…
"Precarious Intimacies is an astute and important book for this age when moments of touch, solidarity, care, and affection between people are never unburdened of the political, and are rarely free from compromise and ambivalence. Critically imbuing over fifty films with the wisdom of intersectional feminist vision, this collaboratively written book practices the beauty and risk its authors so deftly honor in the intimate worlds of contemporary European cinema." —David Gramling, author of The Invention of Monolingualism

 

"Maria Stehle and Beverly Weber forcefully demonstrate that we do not have to choose between radical critique and more affirmative orientations at joy, hope, and solidarity. Drawing on a broad range of contemporary feminist and decolonial affect theories, their readings exemplarily develop a layered methodology for unfolding twenty-first century European cinema's rich contributions to the dual political imperative at hand: attending to the realities of violence and the possibilities of touch." —Claudia Breger, author of Making Worlds: Affect and Collectivity in Contemporary European Cinema

"This book makes a significant contribution to rethinking paradigms in European cinema studies by reading for intimacy as a critical and generative trope in contemporary films. The authors' groundbreaking attention to intimacy as a site of both precarity and resistance to the violence of the present opens up new ways of understanding the politics and aesthetics of audiovisual images in the neoliberal age, considering how film can help us envision more just and sustainable futures." —Hester Baer, author of Dismantling the Dream Factory: Gender, German Cinema, and the Postwar Quest for a New Film Language
 
 

". . . one might leave a reading of this book with much more than just a new understanding of the films it surveys or the theories it deploys. In addition to attention to precarious intimacy as itself a tool of critical reading, we get a new, more precise language for understanding what it means to read critically: challenge, disruption, interruption, thwarting." —Paul Ardoin, Studies in 20th & 21st Century Literature
Northwestern University Press, 9780810142121, 240pp.
Publication Date: August 15, 2020
About the Author
MARIA STEHLE is an associate professor in the Department of Modern Foreign Languages and Literatures at the University of Tennessee, Knoxville. She is the author of Ghetto Voices in Contemporary Germany: Textscapes, Filmscapes, Soundscapes and a coauthor of Awkward Politics: The Technologies of Popfeminist Activism.

BEVERLY WEBER is an associate professor of German studies and Jewish studies at the University of Colorado Boulder. She is the author of Violence and Gender in the "New" Europe: Islam in German Culture.
 
or
Not Currently Available for Direct Purchase