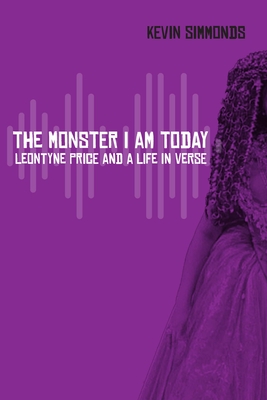 The Monster I Am Today
Leontyne Price and a Life in Verse
Paperback

* Individual store prices may vary.
Description
Leontyne Price remains one of the twentieth century's most revered opera singers and, notably, the first African American to achieve such international acclaim. In movements encompassing poetry and prose, writer and musician Kevin Simmonds explores Price as an icon, a diva, a woman, and a patriot—and himself as a fan, a budding singer, and a gay man—through passages that move polyphonically through the contested spaces of Black identity, Black sound, Black sensibility, and Black history.
 
Structured operatically into overture, acts, and postlude, The Monster I Am Today guides the reader through associative shifts from arias like "weather events" and Price's forty-two-minute final ovation to memories of Simmonds's coming of age in New Orleans. As he melds lyric forms with the biography of one of classical music's greatest virtuosos, Simmonds composes a duet that spotlights Price's profound influence on him as a person and an artist: "That's how I hear: Her."
Praise For The Monster I Am Today: Leontyne Price and a Life in Verse…
"In the urgent spirit of those who have sought to unearth and celebrate the combined wealth of archived, preserved, and inherited histories of African American lives, Kevin Simmonds has produced an intimate, iconic, and wonderfully lyrical accounting of the life and art of Leontyne Price. Simmonds' gift of well-developed emotional and intellectual artistry allows him, in this collection of luminous poems and revealing prose, to produce a work of great importance and power. By laying bare his own admiration of Price, and by doing so with emotional and intellectual honesty and intimacy, Simmonds tells us why we should value Price. Price is an American treasure of genius and humanity, and in The Monster I Am Today, Simmonds reminds us of his own singular value to American letters." —Kwame Dawes, author of Nebraska: Poems

"Memoir and music theory may not seem like the most obvious of pairings, but Kevin Simmonds's new biography-in-verse of Leontyne Price, the first great African-American opera star, makes it look natural." —Keely Weiss, Harper's Bazaar 

"The Monster I Am Today is an excellent pick for the contemporary opera fan. It's grand and operatic, with its emotional peaks and depths. For me, it's a completely new — and frankly, overdue — perspective on this beloved art form. It's a fresh read, and I highly recommend." —Jenna Simeonov, Schmopera

"Each of us has a personal diva—or should. Leontyne Price is the greatest singer that our country produced in the 20th century. How fitting that she should continue to receive her flowers while she still dwells among us. Kevin Simmonds' intelligent and open homage to 'the god-object of her voice' is pitch perfect, and a valuable lesson to future singers on how their art functions beyond their control, shaping the life of each listener in profound ways." —Dante Micheaux, author of Circus

"Across the text, what comes through is the author's recognition of the extraordinary quality of Price's singing, and its effects on him and others. For the author-narrator, Price's music serves as a ballast, compass, buoy, and, it would not be farfetched to say, a lifesaver of sorts . . . There are many compelling aspects of this book, not least its distinctive associative structure and the high quality of its poetry." —John Keene, author of Counternarratives

"In pages of what read, to me, like film stills of a throat in song, the prose-throat pulsates into line then sentence again. A pulsation of lyric, memory, research. Simmonds stretches the ink into a 'tangible Black continuum of sound,' a simultaneously autobiographical and biographical text that radiates with relationship. A twelve-year-old Black, gay boy encounters Leontyne Price for the first time: 'I discovered in her whirling howl my human noise / my instrument eye [.]' Just part of Simmonds' genius is his ability to write a work so sensuous with attention even as it is terrorized by ever-looming racial and homophobic violences. This book is a lucid, extraordinary history of a voice, and 'the clearing it makes / to be unhidden . . .'" —Aracelis Girmay, author of the black maria

 "The Monster I Am Today: Leontyne Price and a Life in Verse may well prove to be the ultimate hybrid: a monster of a book, to be read and reread, not in parts but whole, attending and attentive to the body of its 'dark molasses sound.'" —Brenda Marie Osbey, World Literature Today
TriQuarterly, 9780810143746, 184pp.
Publication Date: July 15, 2021
About the Author
KEVIN SIMMONDS is a musician and writer originally from New Orleans. He studied music at Vanderbilt University and the University of South Carolina. He is the author of two poetry collections, Mad for Meat and Bend to It, and the editor of Collective Brightness: LGBTIQ Poets on Faith, Religion and Spirituality and Ota Benga under My Mother's Roof, a posthumously published collection by Carrie Allen McCray.