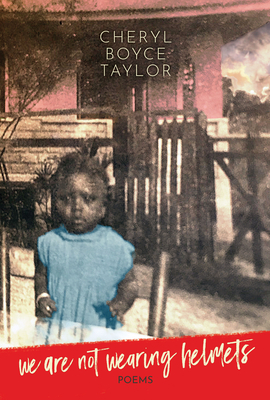 We Are Not Wearing Helmets
Poems
Paperback

* Individual store prices may vary.
Description
We Are Not Wearing Helmets is a collection of political love poems rendered through the eyes of Cheryl Boyce‑Taylor, an immigrant living in New York City. For many women of color, aging in America means experiencing a lack of proper medical treatment, inhumane living conditions, poor nutrition, and often isolation. Many seniors feel thrown away, useless, and vulnerable. These poems challenge the injustices of ageism, racism, and oppression with rage, forgiveness, honor, and endurance. During these rough political times, they are salve and balm.
 
Born in Trinidad and having grown up in Queens, Boyce‑Taylor creates a framework for her own experience out of the life experiences and work of beloved Black women in history. She salutes the women who have lifted her, including Audre Lorde, Fannie Lou Hamer, Ntozake Shange, and Winnie Mandela, as well as her mother, Eugenia Boyce, and her beloved daughter‑in‑law, Deisha Head Taylor.
 
The poems in this collection are unapologetic, fierce, and confrontational while remaining caring and intimate. They stand strong in the face of adversity and boldly demand what is owed while still honoring and cherishing what is loved.
Praise For We Are Not Wearing Helmets: Poems…
"We Are Not Wearing Helmets builds upon and forwards the legacy of African American and women poets such as Audre Lorde, Maya Angelou, Lucille Clifton, and Adrienne Rich. These are poems of memory, narrative poems that are both confessional and political. They document the poet's own trajectory of becoming a writer, speak to the loss of her son and to motherhood, celebrate womanhood, and honor Black history and call for racial justice in the (now growing) tradition of poetry inspired by Black Lives Matter. I was particularly struck by the sequence of poems that are, in essence, odes to women—Black women, queer women, mothers. Whether the women she is writing about are figures from her life or the women authors she reads, we come to know these women and get a sense of the magic the poet feels in their presence." —Vincent Toro, author of Tertulia

"With her piercing, lovely verse, Boyce-Taylor almost takes on the role of Lorde, a mentor who lifts other women with word weapons, unapologetic in delineating true experience. Once again Boyce-Taylor has written a set of affecting poems, her language packed with the complex emotions of being that aren't always easy to sift through." —Meredith Boe, Chicago Review of Books

"'I follow the hurricane path through the middle passage,' writes Cheryl Boyce-Taylor. In a nation that either ignores history or treats it as a spectacle, Boyce-Taylor confronts the enormities that have been erased from our self-knowledge. 'To act is to be committed, and to be committed is to be in danger,' James Baldwin wrote, and these beautiful poems come at an aching cost: 'every day I carry a dark river in my hands.' Yet—maybe it isn't a paradox—Boyce-Taylor's lines glisten with joy and blessing. We Are Not Wearing Helmets is a work of visceral complexity and visionary urgency. In any age, this book would be vital. In ours, the actuality is searing." —D. Nurkse, author of Love in the Last Days: After Tristan and Iseult

"Lifetimes of ancestor-breath, sweat, tears and dreams have realized themselves in the manifestation of these moving poems, peppered with the parlance of a homeland ever distant, never far. Graceful, gritty, crisp, authentic: this work is just the mirror and balm that the world needs right now. Never have we needed this collection more than this moment, these poems that demonstrate how the personal is the political, how relevance becomes timelessness. Full of shadow and shimmer with surprising punches and kisses that land clean, these poems spill blood and hold light all the same." —Samantha Thornhill, coauthor of Watch Me Swing

"Here are flowers and their attendant fragrances: hope, heartbreak, pleasure, longing. Cheryl Boyce-Taylor offers a living archive that includes the dead, a loving archive that retains love's complexity, a catalog of moments that cannot end. Enjoy this book and keep it in a place where you can see it. Maybe somewhere you would keep a carefully arranged bloom of flowers. It will continue to remind you of what life is: beautiful, specific, and too often cut short." —Alexis Pauline Gumbs, author of Dub: Finding Ceremony

"Oh, how I love Cheryl Boyce-Taylor and the way she writes the whole world into existence. Sensual, vivid, radical, and alive, this book is the resistance we need right now. 'Defiant in our righteousness,' these poems do not hold back. They electrify and ignite. They light the way home, urge us to confront the complicated and comfort us when we arrive. Blooming with such tender mother love, love for home, for her people, community, for Black history, womanhood and for the poets who traveled before. Self-assured, sharp, and always seeing, We Are Not Wearing Helmets is a calling, a gathering ground, required reading for all of us looking to find ourselves and where we belong. 'Use it as clarity / use it as affirmation.'" —Ellen Hagan, author of Blooming Fiascoes: Poems (TriQuarterly Books, 2021)

"In Cheryl Boyce-Taylor's We Are Not Wearing Helmets, rage and vulnerability; mourning and celebration; hope and danger; flowers, seas, and legions of Black girls, women, mothers, lovers, elders mold and and meld into each other's consciousness, forming a holy cacophony that sweeps down on the 'billy clubs / hoses guns mad dogs' of the American Nightmare. By turns elegiac and erotic (as in Audre Lorde's 'replenishing and provocative force' that exceeds sensation and is the full manifestation of the feminine power of revelation), Boyce-Taylor inhabits and speaks from the position of a participant in history, a marigold-crowned citizen of this project we call life on Earth, rendering irrelevant the stultified practitioners of racist, patriarchal, and classist oppression. Truly, hers is the unflinchingly sensual, multigenerational, and interdependent vision (wisdom!) we need now more than ever." —Cynthia Dewi Oka, author of Fire Is Not a Country: Poems (TriQuarterly Books, 2022) 
TriQuarterly, 9780810144231, 104pp.
Publication Date: February 15, 2022
About the Author
CHERYL BOYCE‑TAYLOR is the author of four previous collections of poetry—Raw Air, Night When Moon Follows, Convincing the Body, and Arrival—and a memoir and poetic tribute to her son, Mama Phife Represents. A VONA fellow and a teaching artist, Boyce-Taylor is the founder and curator of Calypso Muse and the Glitter Pomegranate Performance Series, and she has led numerous poetry workshops for Cave Canem, the New York Public Library, Urban Word NYC, and Poets House, among others. She lives in Brooklyn.