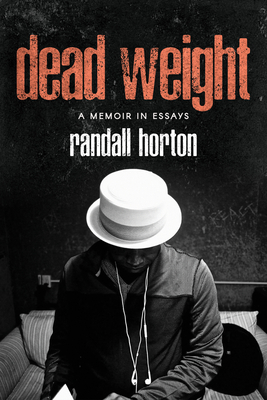 Dead Weight
A Memoir in Essays
Paperback

* Individual store prices may vary.
Description
Dead Weight chronicles the improbable turnaround of a drug smuggler who, after being sentenced to eight years in state prison, returned to society to earn a PhD in creative writing and become the only tenured professor in the United States with seven felony convictions. Horton's visceral essays highlight the difficulties of trying to change one's life for the better, how the weight of felony convictions never dissipates.
 
The memoir begins with a conversation between Horton and Ralph Ellison's Invisible Man statue in New York City. Their imagined dialogue examines the psychological impact of racism on Black men and boys, including Horton's separation from his mother, immediately after his birth, in a segregated Alabama hospital. From his current life as a professor and prison reformer, Horton looks back on his experiences as a drug smuggler and trafficker during the 1980s–1990s as well as the many obstacles he faced after his release. He also examines the lasting impact of his drug activity on those around him, reflecting on the allure of economic freedom and the mental escapism that cocaine provided, an allure so strong that both sellers and users were willing to risk prison. Horton shares historical context and vivid details about people caught in the war on drugs who became unsuspecting protagonists in somebody else's melodrama.
 
Lyrical and gripping, Dead Weight reveals the lifelong effects of one man's incarceration on his psyche, his memories, and his daily experience of American society.
 
Praise For Dead Weight: A Memoir in Essays…
"In Dead Weight, Randall Horton, a 'student of literature,' learns to not only accept the dramatization of historical realities that constitute his life but to also accept that trauma, intrinsically unforgettable, must be, for him, relived as literature if he is to survive his many deaths." —Tyrone Williams, coauthor of washpark  

"Randall Horton's Dead Weight moves between upper Manhattan, the Bahamas, Birmingham, and Washington, DC. In depicting complex webs of dread and desire that connect these dots, Dead Weight teaches its inimitable lessons in geography. These aren't maps though. These geographies happen where continents crash back together and where histories cook into things—things like each other—that we inhale like flame into our hearts. Horton's gripping story breathes life, lives, back into these worlds. These are worlds we may know or ones we may think we know. They may attract or repel, most likely both. It doesn't matter though. Dead Weight reveals things to us—things like us—in ways we've never seen." —Ed Pavlić, author of Another Kind of Madness: A Novel
Northwestern University Press, 9780810144637, 160pp.
Publication Date: February 15, 2022
About the Author
RANDALL HORTON is the author of a previous memoir and several books of poetry, including Pitch Dark Anarchy: Poems (TriQuarterly Books, 2013) and The Lingua Franca of Ninth Street. In 2019 he served as poet-in-residence for the Civil Rights Corps in Washington, DC, which is a nonprofit organization dedicated to challenging systemic injustice in the American legal system. The recipient of numerous awards, including the Gwendolyn Brooks Poetry Award, the Bea González Poetry, a National Endowment of the Arts Fellowship in Poetry, and a Right to Return Fellowship from the Soze Foundation, he currently sits on the Advisory Board of PEN America's PEN Prison Writing Program. He is a professor of English at the University of New Haven.