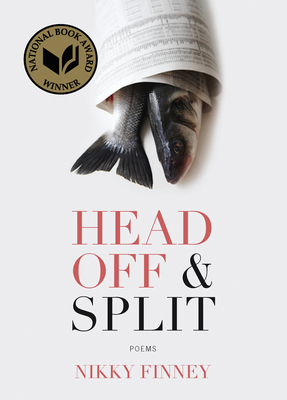 Head Off & Split
Poems
Paperback

* Individual store prices may vary.
Description
Winner, 2011 National Book Award for Poetry
Winner, 2012 GCLS Award for Poetry
Winner, 2012 SIBA Book Award for Poetry
Nominee, 2012 NAACP Image Award for Outstanding Literary Work in Poetry

The poems in Nikky Finney's breathtaking new collection Head Off & Split sustain a sensitive and intense dialogue with emblematic figures and events in African American life: from civil rights matriarch Rosa Parks to former secretary of state Condoleezza Rice, from a brazen girl strung out on lightning to a terrified woman abandoned on a rooftop during Hurricane Katrina. Finney's poetic voice is defined by an intimacy that holds a soft yet exacting eye on the erotic, on uncanny political and family events, like her mother's wedding waltz with South Carolina senator Strom Thurmond, and then again on the heartbreaking hilarity of an American president's final State of the Union address. 
 
Artful and intense, Finney's poems ask us to be mindful of what we fraction, fragment, cut off, dice, dishonor, or throw away, powerfully evoking both the lawless and the sublime.
Praise For Head Off & Split: Poems…
"Nikky Finney has been a fine poet much too long to say that this latest treasure is her promise coming into being. She exploded with so much talent with On Wings Made of Gauze and beautifully matured with Rice, yet Head Off Split takes the promise of youth with the control of adulthood to bring her greatest exploration. Honest, searing, searching. We all, especially now, need this book of poems; we all, especially now, need this poet." -Nikki Giovanni, author of Bicycles
 

"Beginning with the sweepingly inclusive and powerful 'Red Velvet,' a Middle Passage poem for our times, Nikky Finney takes the reader to a wonderfully alive world where the musical possibilities of language overflow with surprise and innovation. Finney has an ear to go along with the wild-ness of her imagination, which sweeps through history like a pair of wings. Her carefully modulated free verse is always purposeful in its desire to move the reader in a way that allows us intimate access to necessary observations about ourselves. These poems, in other words, have the power to save us." 
--Bruce Weigl, author of What Saves Us

"With Head Off Split, Nikky Finney establishes herself as one of the most eloquent, urgent, fearless and necessary poets writing in America today. What makes this book as important as anything published in the last decade is the irresistible music, the formal dexterity and the imaginative leaps she makes with metaphor and language in these simply stunning poems. This is a very, very important achievement." —Kwame Dawes, author of Hope's Hospice

"In her stupendous fourth volume, Head Off Split, winner of the 2011 National Book Award for poetry, Nikky Finney instantly becomes America's exemplar of how to put the skeletons into poetic truth." —John Freeman, Cleveland Plain Dealer 

"This fourth collection from Finney . . . should prove hard to forget. Against other black poets' interest in congregations, Finney is drawn to defiant individualists, to black women who let no one tell them what to do." —Publishers Weekly

"Finney's dedication to what can be salvaged, her unfaltering consciousness and conscientiousness, and her dedication to the sublime power of language demand our attention. This fourth book is stunning, a definite must-read." —Indiana Review

". . . a stunning work of graceful remembrance." —Laura Pegram, The Millions

"This is a stunning book; the sort that reminds the reader of some of poetry's highest aspirations." —NewPages.com 

"Poetry can be so many things in the right hands. It can elevate the senses, challenge perceptions, or increase understanding of complex topics. Nikky Finney's Head Off Split, which won the National Book Award for poetry in 2011, does all that and more with poems grounded in reality, yet also stretching the limits of imagination in regards to imagery and symbolism." —La Toya Hankins, Black Lesbian Literary Collective 
TriQuarterly, 9780810152168, 116pp.
Publication Date: January 27, 2011
About the Author
Nikky Finney was born at the rim of the Atlantic Ocean, in South Carolina, in 1957. The daughter of activists and educators, she began writing in the midst of the Civil Rights and Black Arts Movements. With these instrumental eras circling her, Finney's work provides first-person literary accounts to some of the most important events in American history.

In 1985, and at the age of 26, Finney's debut collection of poetry, On Wings Made of Gauze, was published by William Morrow (a division of HaperCollins). Finney's next full-length collection of poetry and portraits, RICE (Sister Vision Press, 1995), was awarded the PEN America-Open Book Award, which was followed by a collection of short stories entitled Heartwood (University Press of Kentucky, 1998). Her next full-length poetry collection, The World Is Round (Inner Light Books, 2003) was awarded the Benjamin Franklin Award sponsored by the Independent Booksellers Association. In 2007, Finney edited the anthology, The Ringing Ear: Black Poets Lean South (University of Georgia Press/Cave Canem), which has become an essential compilation of contemporary African American writers. Her fourth full-length collection of poetry, Head Off & Split, is a National Book Award Winner. 

Finney and her work have been featured on Russell Simmons DEF Poetry (HBO series), renowned chef Marcus Samuelsson's feature The Meaning of Food (a PBS production) and National Public Radio. Her work has been praised by Walter Mosley, Nikki Giovanni, Gloria Naylor and the late CBS/60 Minutes news anchor Ed Bradley. Finney has held distinguished posts at Berea College as the Goode Chair in the Humanities and Smith College as the Grace Hazard Conklin Writer-in-Residence.

Finney is currently a Professor of English and Creative Writing at the University Kentucky. She is a founding member of the Affrilachian Poets
Coverage from NPR