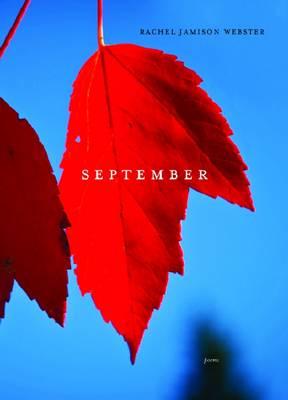 September
Poems
Paperback

* Individual store prices may vary.
Description
The poems in Rachel Webster's debut collection Septem­ber often address a fleeting moment. Like the month, the moment can be a single leaf falling or a season of life. Webster's pastoral poems address personal physical change in the seasons of life, including childhood, love, motherhood, and death. Together they lead the reader through a lyrical landscape of conversation, meditation, and healing. The work of a poet sensitive to worlds ex­ternal and internal, September speaks to the core of life and the simplicity of human events and the natural world around us.
Praise For September: Poems…
"The world revealed in these poems is on fire with the primordial wisdom and unfathomable mystery of creation, as if passion were the very fabric of that world and every object in it. The heart revealed is a heart that sees. And the spirit disclosed is one deeply enamored of the body. She speaks breathlessly in praise, in awe, in pain, and in wonder at the manifold nature of being alive. On the one hand, her voice is that of a seer, mystic, and ecstatic lover of existence who knows very clearly the nearness and intimacy of destruction and non-existence. On the other hand, she manages to sound like a close friend simply pointing out the ravishing beauty that surrounds us. Her's is the voice of our inner friend. If this collection is any proof, she is on a path of ever-deepening power, insight, and craft. We're blessed by these poems and by Rachel Webster's presence in our time."  —Li-Young Lee
"Webster's sensuous, memory-haunted collection is a celebration of life wrapped in an elegy. The book begins, 'You shawl me like smoke.' This seeds Webster's fascination with sheltering fog and disorienting mist and prompts poignant inquiry into images of enfolding and surrounding, shrouding and swaddling. Webster's speaker misses her deceased beloved and marvels over her infant daughter. 'My first word was look,' she declares, and hers are delving eyes. She sees nature as an enveloping, penetrating, and vital presence, and its perpetual motion infuses Webster's darting, whirling, gliding lines. Childhood memories embody a cellular affinity with nature, a sense of awe, while a poem of sickbed vigils, loss, and life's determined renewal is anchored to the sight of thriving ivy on a brick hospital wall. Webster announces, 'This world in its spiked beauty splits me,' and this sense of division, of the divide between sorrow and joy, life and death, subtly shapes her gracefully crafted, ardently observed poems in which vowels chime and consonants clang. Nuanced and caring poems that reach from the immediate and intimate to the timeless and universal." —Donna Seaman,
Booklist
"These are poems of the body, poems that come from the body and the wild wind that breaks the body, the soul howling all night in our head and hearts" —Matthew Dickman,
Tin House
TriQuarterly, 9780810152311, 104pp.
Publication Date: April 15, 2013
About the Author
Rachel Jamison Webster is an artist in residence at Northwestern University. She edits an online anthology of international poetry, UniVerse, which aims to widen poetry's audience and celebrate poets from every nation in the world. She previously published a chapbook, The Blue Grotto (2009), and edited two anthologies of writing by young people, Alchemy (2001) and Paper Atrium (2004). Webster is the recipient of an Academy of American Poets Young Poets Prize and an American Association of University Women Award.
or
Not Currently Available for Direct Purchase