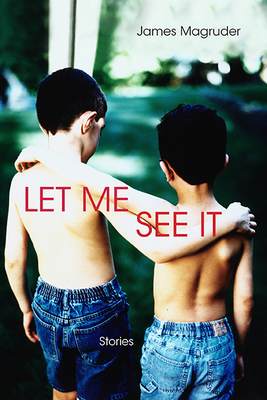 Let Me See It (Paperback)
Stories
Triquarterly, 9780810152441, 208pp.
Publication Date: June 3, 2014
* Individual store prices may vary.
Description
James Magruder's collection of linked stories follows two gay cousins, Tom and Elliott, from adolescence in the 1970s to adulthood in the early '90s. With a rueful blend of comedy and tenderness, Magruder depicts their attempts to navigate the closet and the office and the lessons they learn about libidinous coworkers, résumé boosting, Italian suffixes, and frozen condoms. As Tom and Elliot search for trusting relationships while the AIDS crisis deepens, their paths diverge, leading Tom to a new sense of what matters most. Magruder is especially adept at rendering the moments that reveal unwritten codes of behavior to his characters, who have no way of learning them except through painful experience.
Loss is sudden, the fallout portrayed with a powerful economy. In Tom and Elliott, readers come to recognize themselves, driven by the same absurd desires and unconscious impulses, subjected to the same fates.
About the Author
James Magruder is a fiction writer, playwright, and award-winning translator. He teaches dramaturgy at Swarthmore College and fiction at the University of Baltimore. He is also the author of a novel, Sugarless (2009).
Praise For Let Me See It: Stories…
"In this witty, elegiac collection of linked stories, Magruder traces the paths of two gay cousins, Tom Amelio and Elliott Biddler, as they grow up in the Midwest and eventually become wised-up, crisis-addled adults. Spanning 1971 to 1992, and set in cities ranging from Madison, Wisconsin, to Paris, the collection captures a critical chapter in gay history. The innocent crushes and clumsy sexual forays we witness in early stories ("Tenochtitlán," "Use Your Head") give way to darker entries ("Elliott Biddler's Vie Bohème," "Elbows and Legs"), in which the cousins, entering adulthood in the '80s, begin to feel the threat of AIDS... this collection—especially its final, tragic entry—will leave readers moved." —Publishers Weekly, Starred Review
"There are few authors who write with as much sensitivity and tenderness as James Magruder; he has a way of finding something beautiful in the most heartbreaking moments . . . With sharp touches of humor, this is a marvel of a story."   —Kevin Wilson, author of The Family Fang
"Let Me See It overflows with honesty, hilarity, and heart. It's impossible not to love this book, impossible to turn away from its brilliant prose, wicked humor, and utterly engaging characters." —Jessica Anya Blau, author of The Wonder Bread Summer
"Let Me See It exquisitely captures the texture of boyness and its evolution into the vast and bewildering landscape of adulthood. I loved being in the grasp of stories so alight with lust and danger and longing and loss, just as I loved Elliott and Tom—two remarkably complex and empathetic protagonists. From the first page, I fell headlong into their world and by the last, I was so very sad to leave it." —Laura van den Berg, author of The Isle of Youth