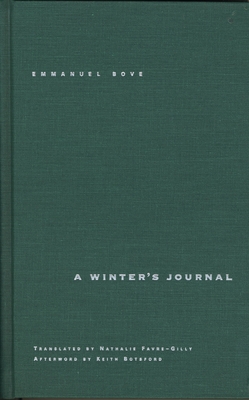 A Winter's Journal
Hardcover

* Individual store prices may vary.
Other Editions of This Title:
Paperback (4/8/1998)
Description
Paris in the 1930s: Louis Grandeville has a beautiful wife, a nice home, a loyal servant, and a large circle of well-placed friends. His financial situation doesn't require him to work. Yet Louis is obsessed by the nagging reality that he never has and never will amount to anything. He believes his life is devoid of any affection or goal, filled instead with a thousand trifles intended to relieve its monotony, and populated with human beings he seeks out to avoid being alone but for whom he cares little.

Every few days for one winter, Louis writes down the details of his unhappy marriage. Although his wife, Madeleine, is the focal point of his journal, his painstakingly rendered analyses of her behavior tell us more about him than her, and about the harm two people can do to one another. Unsparing and insightful, A Winter's Journal remains one of the most devastating novels ever written on the self-destructive impulse present in all marriages.

Praise For A Winter's Journal…
"All but forgotten today, the cheerless French novels of Bove (nee Bobovnikoff, 1898-1945) were much admired among certain intellectual Modernists in Europe. . . . as Keith Botsford argues in his thorough defense of Bove, the writer's resurrected oeuvre will be read for its singular influence on the work of such writers as Samuel Beckett and Peter Handke." —Publishers Weekly

". . . a self-justifying bourgeois who never understands how he mistreats his long-suffering wife, written in 1931 by the obscure French novelist (1898-1945), whose tautly controlled fiction has been credited as a major influence on Beckett." —Kirkus Reviews
Marlboro Press, 9780810160460, 219pp.
Publication Date: April 8, 1998
About the Author
Emmanuel Bove (1898–1945), né Bobovnikoff, was a prolific French writer during the early twentieth century. He also wrote under the pseudonyms of Pierre Dugast and Jean Vallois. He is considered a major influence on Samuell Beckett and won the Prix Figuière in 1928.
or
Not Currently Available for Direct Purchase