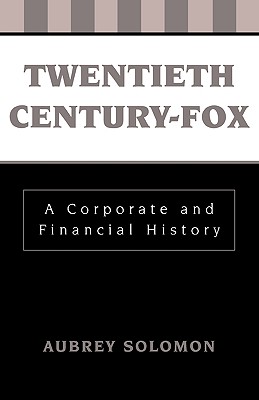 Twentieth Century-Fox
A Corporate and Financial History (Scarecrow Filmmakers #20)
Paperback

* Individual store prices may vary.
Description
New in Paperback In 1935, two film production companies merged to form one of the most influential corporations in the world--Twentieth Century-Fox. Here is the story of that dynamic company and of the personalities who molded it over the past fifty years, from Darryl F. Zanuk to Barry Diller. Unlike any previous volume on a film studio, this in-depth history is told from a corporate viewpoint, covering the trends that influenced film-making, profit-making incentives, and the creative policies resulting in films like The Grapes of Wrath, the Snake Pit, The Robe, Cleopatra, The Towering Inferno, and Star Wars. The book spans the birth of the movies; the rise of the studio system; the coming of sound; the Consent Decrees; the development of CinemaScope; the growth of independent production; and the video revolution. The result is an inside view of how the studio operated, with information never before published on the costs and grosses of films, as well as exclusive interviews and memos. Available in paperback 2001. Cloth version previously published in 1988.
Scarecrow Press, 9780810842441, 300pp.
Publication Date: October 1, 1988
About the Author
Aubrey Solomon has been an active television writer/story editor and also produced the Twentieth Century-Fox television show That's Hollywood.