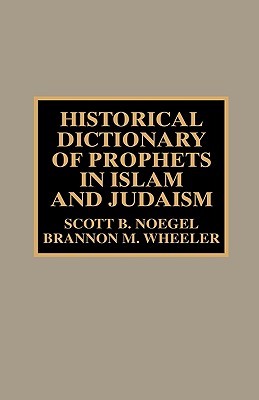 Historical Dictionary of Prophets in Islam and Judaism (Historical Dictionaries of Religions #43) (Hardcover)
Scarecrow Press, 9780810843059, 560pp.
Publication Date: October 28, 2002
* Individual store prices may vary.
Description
Both traditions recognize and draw theological and historical lessons from some of the same narrative sources, but this is the first comparative resource to provide interdisciplinary coverage of the history and textual sources associated with prophets and prophecy. This thorough treatment of a difficult and increasingly controversial subject area will encourage and cultivate knowledge and understanding. Entries are drawn from five main fields: 1. Ancient Near Eastern Studies 2. Bible and Biblical Studies 3. Judaism and Jewish Studies 4. The Quran and Quranic Studies 5. Islam and Islamic Studies Noegel and Wheeler treat each entry as a compilation of relevant data culled from these different traditions in order to take the reader beyond the expected parameters of research. Originally envisioned as an initial resource for students of comparative religion, the extensive chronology, bibliography, list of acronyms, and the overall accessibility of the passages make the Dictionary suitable for a much wider audience.
About the Author
Scott B. Noegel is Associate Professor of Biblical and Ancient Near Eastern Studies at the University of Washington. He has published more than forty articles on a variety of biblical and ancient Near Eastern topics, and he has collaborated on several books, including Janus Parallelism in the Book of Job and a forthcoming work entitled Nocturnal Ciphers: The Punning Language of Dreams in the Ancient Near East. He is the associate editor of the Journal of Hebrew Scriptures and the creator of Okeanos, an online resource devoted to the interdisciplinary study of the ancient Near East and Greece. His two films, Descent of Ishtar and the Epic of Gilgamesh: Tablet XI, have earned him international accolades. Brannon M. Wheeler is Associate Professor of Islamic Studies and chair of Comparative Religion at the University of Washington. Professor Wheeler has taught at several academic institutions including Vanderbilt University and Pennsylvania State University prior to his position at the University of Washington. A past visiting scholar at the Hebrew University in Jerusalem, the School of Islamic Law and Islamic Studies at Kuwait University, the American Research Center in Egypt, and the American Institute of Maghreb Studies in Tunisia, Professor Wheeler has published numerous books and articles on various religious subjects.