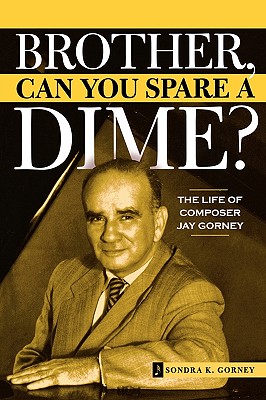 Brother, Can You Spare a Dime?
The Life of Composer Jay Gorney
Paperback

* Individual store prices may vary.
Description
In January 2005 the Grammys announced their annual Hall of Fame inductees. Included on the list was Bing Crosby's 1932 recording of "Brother, Can You Spare a Dime?," the anthem of the Great Depression. Jay Gorney, who composed the music for this enduring classic, will also be remembered for such standards as "Baby Take a Bow" (from the film Stand Up and Cheer), "You're My Thrill," and "What Wouldn't I Do for That Man?" Throughout his lifetime, Gorney wrote hundreds of popular songs for theater, film, and television. In addition to composing, Gorney also produced films and was a distinguished writer and teacher. Unfortunately, his career was brought to a halt in 1953 with his appearance before the House Un-American Activities Committee, as he was blacklisted thereafter. This memoir by Jay's wife of more than 45 years chronicles the life of one of American music's most prolific and respected composers. From Gorney's childhood in Russia to his many stage and screen successes to his 1962 Tony Award, Brother Can You Spare a Dime? is a tribute to a man whose humanity, kindness, and courage triumphed over adversity. Contains more than 30 photos, including sheet music covers to some of Jay's greatest songs.
Scarecrow Press, 9780810856554, 192pp.
Publication Date: August 25, 2005
About the Author
Sondra K. Gorney started her career as an actress in Chicago, performing in theater and radio. After moving to Los Angeles, she met and married Jay Gorney. Together they co-produced several editions of the musical revue Meet The People. When the Blacklist halted Jay's career, Sondra started a 30-year career as a public relations executive. She has appeared as a guest speaker on hundreds of radio and television programs throughout the country, and is the co-author of After Forty: How Women Can Achieve Fulfillment. After her retirement from public relations - and her husband's death - she returned to the theater as an actress and has appeared in numerous off-Broadway plays, as well as in television dramas.