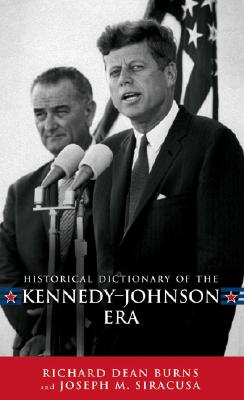 Historical Dictionary of the Kennedy-Johnson Era (Historical Dictionaries of U.S. Politics and Political Eras #8)
Hardcover

* Individual store prices may vary.
Description
In the history of the United States, few periods could more justly be regarded as the best and worst of times than the Kennedy-Johnson era. The arrival of John F. Kennedy in the White House in 1961 unleashed an unprecedented wave of hope and optimism in a large segment of the population; a wave that would come crashing down when he was assassinated only a few years later. His successor, Lyndon B. Johnson, enjoyed less popularity, but he was one of the most experienced and skilled presidents the country had ever seen, and he promised a Great Society to rival Kennedy's New Frontier. Both presidents were dogged by foreign policy disasters: Kennedy by the Bay of Pigs fiasco, although he came out ahead on the Cuban missile crisis, and Johnson from the backlash of the Vietnam War. The 1960s witnessed unprecedented progress toward racial and sexual equality, but it also played host to race and urban riots. And while impressive advances in the sciences and arts were fueling the American imagination, the counterculture rejected it all. The Historical Dictionary of the Kennedy-Johnson Era relates these events and provides extensive political, economic, and social background on this era through a detailed chronology, an introduction, appendixes, a bibliography, and several hundred cross-referenced dictionary entries on important persons, events, institutions, policies, and issues.
Scarecrow Press, 9780810858428, 432pp.
Publication Date: September 19, 2007
About the Author
Richard Dean Burns is Professor Emeritus and former chair of the History Department at California State University, Los Angeles. Joseph M. Siracusa is Professor in the School of Global Studies, Social Science and Planning, at the Royal Melbourne Institute of Technology in Australia, where he is a specialist in nuclear politics and global security.
or
Not Currently Available for Direct Purchase