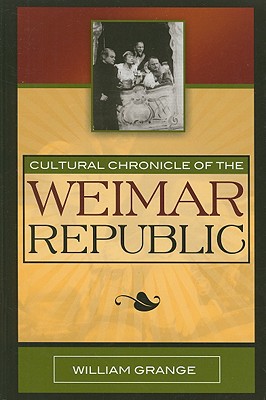 Cultural Chronicle of the Weimar Republic
Hardcover

* Individual store prices may vary.
Description
The Weimar Republic began at 2:00 PM on November 9, 1918 when Philip Scheidemann declared from a second-story window in the Reich Chancellery to his hearers below that the German Reich was now a republic. It ended at 11:00 AM on January 30, 1933 when President Paul von Hindenburg named Adolf Hitler Chancellor. The Cultural Chronicle of the Weimar Republic is an account of significant cultural events in Germany during the time of the Weimar Republic. Weimar, already a German cultural mecca because Goethe and Schiller had lived and worked there 120 years earlier, emerged as a unique and experimental culture. Weimar culture was responsible for producing such icons as actress Marlene Dietrich, novels like All Quiet on the Western Front, musicals like The Threepenny Opera, the political cabaret, the Bauhaus School, and films like The Cabinet of Dr. Caligari and Metropolis. There were hundreds of premieres, performance debuts, exhibitions, works of fiction, and other cultural events that marked the Republic as Western Civilization's first modernist society. Modernism took many forms: the Einstein Tower in Berlin, the symphonies of Paul Hindemith, the paintings of Max Beckmann, the drawings of K the Kollwitz, the novels of Alfred D blin, the industrial designs of Ferdinand Porsche, the choreography of Mary Wigman, the acting of Ernst Deutsch, the plays of Expressionism. The Cultural Chronicle of the Weimar Republic presents these and scores of other modernist inscriptions worthy of note, while providing notations that inform readers of connections among individuals, art works, related cultural activities, and significant political and economic developments.
Scarecrow Press, 9780810859678, 208pp.
Publication Date: September 29, 2008
About the Author
William Grange is Professor of Theatre and Film History in the Johnny Carson School of Theatre and Film at the University of Nebraska.