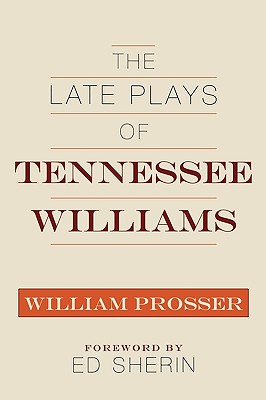 Late Plays of Tennessee Williams (Paperback)
Scarecrow Press, 9780810863613, 285pp.
Publication Date: November 24, 2008
* Individual store prices may vary.
Description
Praised as one of the finest American playwrights of the 20th century, Tennessee Williams left a legacy of theater classics, including The Glass Menagerie, Sweet Bird of Youth, Cat on a Hot Tin Roof, and A Streetcar Named Desire. Though a winner of two Pulitzer prizes for drama, Williams fell out of favor in the early 1960s and after The Night of the Iguana, his subsequent works suffered both critical and commercial failure. Even worse, several of his plays failed to get produced in his lifetime. William Prosser directed six productions of Williams's plays, five of which the playwright saw, criticized, and quite often praised. In The Late Plays of Tennessee Williams, Prosser reassesses the playwright's later works. Determined to liberate them from the literary purgatory to which they had been condemned by the critics, Prosser examines the works Williams produced from the early 1960s until the playwright's death in 1983. In several thoughtful essays, Prosser discusses such works as The Milk Train Doesn't Stop Here Anymore, Slapstick Tragedy, Kingdom of Earth, The Red Devil Battery Sign, and Clothes For a Summer Hotel, a portrait of F. Scott and Zelda Fitzgerald. Besides offering reevaluations of these works, each chapter may be seen as research and analysis for potential productions. Throughout the book, Prosser contends that Williams' talent was not destroyed, but rather went on in different directions to produce extraordinary, if misunderstood, works.
About the Author
William Prosser (1942-1991) was a professor of theatre at Brooklyn College of City University of New York. He ran the Tennessee Williams Fine Arts Center in Key West, where he directed the world premiere of an early Williams play, Will Mr. Merriwether Return From Memphis? in 1980.