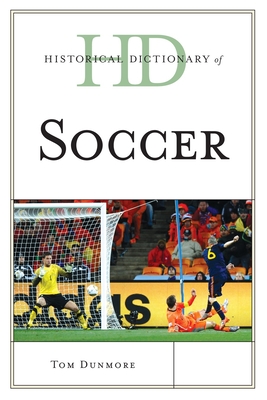 Historical Dictionary of Soccer (Historical Dictionaries of Sports (Scarecrow Press)) (Hardcover)
Scarecrow Press, 9780810871885, 313pp.
Publication Date: September 1, 2011
* Individual store prices may vary.
Description
Soccer is the world's most popular sport and one of the globe's best known cultural practices. The pinnacle of the sport worldwide is the FIFA World Cup, a competition held every four years, which crowns one nation as the world champion in front of huge global television audiences: over half of the planet's population watched the 2010 FIFA World Cup final between Spain and the Netherlands. From the humble origins of modern soccer in Great Britain in the 19th century, world soccer has become today a vast, commercialized global industry, with huge salaries paid to the biggest stars due to the massive amounts of revenue generated through the sale of television rights, ticket sales, and sponsorship income. The Historical Dictionary of Soccer presents a comprehensive history of the game through a chronology, an introductory essay, a bibliography, numerous appendixes that list everything from the FIFA World Player of the Year to FIFA World Cup Winners and Runners-Up to the UEFA Champions League Winners and Runners-Up, and over 400 cross-referenced dictionary entries on places, teams, terminology, and people, including Garrincha, Pel , Johan Cruyff, Diego Maradona, Zinedine Zidane, and Lionel Messi. This book is an excellent access point for students, researchers, and anyone wanting to know more about soccer.
About the Author
Tom Dunmore is a soccer writer and executive. In 2010, he was appointed as Vice-President of the Chicago Riot Soccer Club of the Major Indoor Soccer League. He publishes an award-winning global soccer culture blog, www.pitchinvasion.net, and he was an international soccer columnist for The Chicago Sports Weekly from 2007 to 2008.