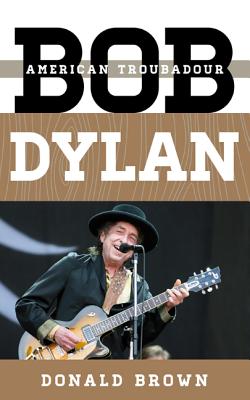 Bob Dylan
American Troubadour
Hardcover

* Individual store prices may vary.
Other Editions of This Title:
Paperback (12/6/2016)
Description
With Bob Dylan's receipt of the Nobel Prize in Literature, his iconic status as an American musical, cultural, and poetic giant has never been more apparent.Bob Dylan: American Troubadour is the first book to look at Dylan's career, from his first album to his late masterpiece Tempest. Donald Brown provides insightful critical commentary on Dylan's prolific body of work, placing Dylan's career in the context of its time in order to assess the relationship of Dylan's music to contemporary American culture. Each chapter follows the shifting versions of Dylan, from his songs of conscientious social involvement to more personal exploratory songs; from his influential rock albums of the mid-1960s to his adaptations of country music; from his three very different tours in the 1970s to his "born again" period as a proselytizer for Christ and his frustrations as a recording and performing artist in the 1980s; from his retrospective importance in the 1990s to the refreshingly vital albums he has been producing in the twenty-first century. Bob Dylan: American Troubadour will engage not only Dylan fans and students of his work but also those interested in American popular music, history, and culture. Anyone who has been touched, challenged, or surprised by a Dylan song will enjoy this concise and informed critical exploration of Dylan's music and his place in the American musical landscape.
Rowman & Littlefield Publishers, 9780810884205, 308pp.
Publication Date: January 21, 2014
About the Author
Donald Brown is an editor, theater critic, and book reviewer at The New Haven Review. He teaches at Yale and since 2006 has commented on music, movies, and books on blogocentrism. He has a degree in Art History and Comparative Literature from the University of Delaware and a doctorate in Comparative Literature from Princeton University, where he studied as a Mellon fellow.