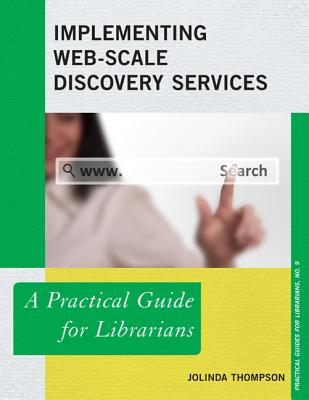 Implementing Web-Scale Discovery Services
A Practical Guide for Librarians (Practical Guides for Librarians #9)
Paperback

* Individual store prices may vary.
Description
Web scale discovery tools index a vast number of resources in a wide variety formats and allow users to search for content in a physical collection, print and electronic journal collections, and other resources from a single search box. Search results are displayed in a manner similar to internet searches, in a relevance-ranked list with links to online content. Implementing Web-Scale Discovery Services: A Practical Guide for Librarians is a one-stop source for librarians seeking to evaluate, purchase, and implement a web-scale discovery service. The book breaks down each phase of the project into decision points and action plans which will help move the project forward in an orderly and focused manner. After reading this guide, librarians will be able to: -identify the system with the best content match for their library; -conduct informative product trials; -negotiate for the best pricing options; -and optimize customization of the selected systems to meet local needs. Implementing Web-Scale Discovery Services: A Practical Guide for Librarians guides librarians on configuring search boxes, integrating local content sources, and making full-text easily accessible. This text presents the information in check lists, decision trees, and quotes from early adopters, and includes information on how to customize these systems to meet each library's specific needs.
Rowman & Littlefield Publishers, 9780810891265, 174pp.
Publication Date: September 11, 2014
About the Author
JoLinda Thompson is technical systems coordinator at Himmelfarb Health Sciences Library and has over fifteen years of experience as a library systems professional.