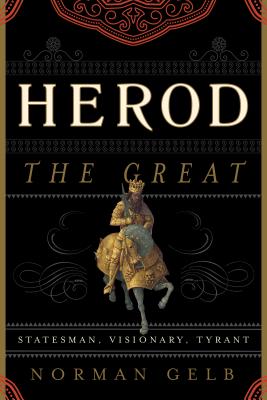 Herod the Great
Statesman, Visionary, Tyrant
Paperback

* Individual store prices may vary.
Other Editions of This Title:
Hardcover (2/21/2013)
Description
Herod the Great, king of ancient Judea, was a brutal, ruthless, vindictive and dangerously high-strung tyrant. He had many of his subjects killed on suspicion of plotting against him and was accused of slaughtering children in Bethlehem when informed that a new king of the Jews had been born there. Among the victims of the murderous paranoia that ultimately drove him to the brink of insanity were his three oldest sons and the wife he loved most. But there was a crucial aspect to Herod's character that has been largely ignored over the centuries. Norman Gelb explores how Herod transformed his formerly strive-ridden kingdom into a modernizing, economically thriving, orderly state of international significance and repute within the sprawling Roman Empire. This reassessment of Herod as ruler of Judaea introduces a striking contrast between a ruler's infamy and his extraordinary laudable achievements. As this account shows, despite his horrific failings and ultimate mental unbalance, Herod was a fascinatingly complex, dynamic, and largely constructive statesman, a figure of great public accomplishment and one of the most underrated personalities of ancient times. History buffs and those interested in popular ancient history can are introduced to this ruthless tyrant and his victims.
Rowman & Littlefield Publishers, 9780810895256, 1pp.
Publication Date: October 30, 2017
About the Author
Norman Gelb is the author of a number of acclaimed books, including Kings of the Jews: The Origins of the Jewish Nation. He is a historian and freelance writer, who periodically contributes to publications such as Smithsonian magazine.