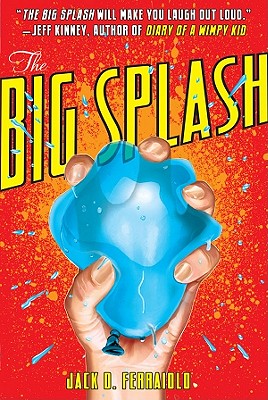 The Big Splash (Hardcover)
Amulet Books, 9780810970670, 288pp.
Publication Date: September 1, 2008
Other Editions of This Title:
Paperback (3/1/2011)
CD-Audio (10/1/2008)
CD-Audio (10/1/2008)
Prebound (3/1/2011)
* Individual store prices may vary.
Description
Snappy, pulp-inspired noir set in the mean hallways of middle school, from an exciting debut author.

The treacherous, hormone-soaked hallways of Franklin Middle School are the setting for this sharp, funny noir novel about tough guys and even tougher girls. "The Frank" is in the clutches of a crime syndicate run by seventh-grader Vinny "Mr. Biggs" Biggio, who deals in forged hall passes and black-market candy. Double-cross him and your number is punched by one of his deadly water-gun-toting assassins. One hit in the pants and you are in "the Outs" forever. Matt Stevens is a proud loner with his own code of justice. He's avoided being pulled into Vinny's organization until now: Mr. Biggs has offered him a job he can't resist, one that leads to the surprising downfall of Vinny's top assassin, the beautiful and deadly Nikki "Fingers" Finnegan, at the hands of an unknown assailant. Matt thinks he was used, and he becomes determined to find the trigger-guy or -girl, even if it means bringing down one of his oldest friends.
New talent Jack D. Ferraiolo revitalizes the noir novel while delivering a terrific, addictive mystery that crackles with wit and excitement.
"Jack Ferraiolo shines a light on middle school and reveals what we've always suspected: it's a sinister place ruled by crime bosses and thugs. 'The Big Splash' will make you laugh out loud."—Jeff Kinney, #1 New York Times bestselling author of DIARY OF A WIMPY KID

"Move over Bogart; now there's hard-boiled private detective Matt Stevens on the job at Franklin Middle School ... You could call this genre kid noir."—Judy Freeman, on the "Sure Shot Books for Boys" list on readkiddoread.com

"Entertaining and thrilling."--The New York Times Sunday Book Review (full page review)

"A first novel with an ingenious premise: junior high noir … Twists and curve balls keep readers guessing; extended jokes will keep them laughing. With crisp prose and surprisingly poignant moments, Ferraiolo's debut entertains on many levels." --Publishers Weekly, starred review

"Ferraiolo weaves a tale that is thought-provoking and rib-tickling all at the same time. Highly recommended."--Library Media Connection starred review

"Matt Stevens may turn out to be a bankable franchise: His first-person present-tense narration carries in it echoes of Marlowe, and the simple plot makes some crafty twists and turns as it goes along."--Kirkus

"Ferraiolo cleverly interweaves Mafia undertones with Middle School social dynamics in this comical yet page turning novel. Young adult mystery enthusiasts will love the unmasking of this new sleuth in literature."--ALAN

"Ferraiolo has taken us down, in a manner of speaking. Good fun, and the comic-book style cover will attract readers."—KLIATT reviews

"This fabulous mystery will have teens racing to get to the last page…A great whodunit mystery lovers are sure to consume."—VOYA

"This debut novel delivers plenty of laughs … Fans of private-eye spoofs will enjoy this entertaining read."—Booklist

"Well paced, funny, and suspenseful, with some real commentary on bullying and mob mentality, this book will have fans eagerly awaiting the next installment in this faux noir detective series."—School Library Journal

"Ferraiolo shines in this debut novel, working the noir tropes for all they're worth … The mystery itself is cagily constructed to keep readers guessing pretty much til' the last bell."—Bulletin for the Center of Children's Books

"If middle school has an "underworld," this book is The Godfather and The Maltese Falcon all rolled into one. Better still, it's funny, and not just a little."—Gordon Korman, author of SCHOOL OF ROCK
F&P level: W
About the Author
Jack D. Ferraiolo is the author of The Big Splash and Sidekicks. As the head of development at a children's animation production company, he has developed and writes for WordGirl on PBS, for which he won an Emmy Award. He lives in northern Massachusetts. Visit him online at www.jackferraiolo.com.
or
Not Currently Available for Direct Purchase