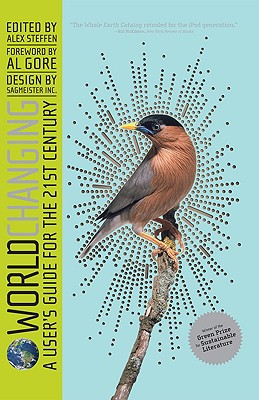 Worldchanging: A User's Guide for the 21st Century (Paperback)
A User's Guide for the 21st Century
ABRAMS, 9780810970854, 596pp.
Publication Date: March 1, 2008
* Individual store prices may vary.
or
Not Currently Available for Direct Purchase
Description
"Worldchanging" is packed with information, resources, reviews, and ideas that give readers access to the tools they need to build a better future. Written by a diverse collaborative of innovators, "Worldchanging" demonstrates that the means for making a difference lie all around us.
This team of top-notch writers, brought together by Worldchanging.com founder Alex Steffen, includes Cameron Sinclair, founder of Architecture for Humanity, Geekcore founder Ethan Zuckerman, and sustainable food expert Anne Lappe, among many others.
Each chapter offers practical answers to important questions, such as: Why does buying locally produced food make sense? What steps can we take to influence our workplace toward sustainability? How can we travel, live, work, and learn in world-changing ways? How, in short, can we participate in building a better future locally and globally?
"Worldchanging" proves that a life that is sustainably prosperous, thoughtful and democratic, dynamic and peaceful, is not just possible, it's here.
About the Author
Alex Steffen is the founder and executive editor of Worldchanging.com, a global nonprofit media collaborative dedicated to exploring tools, models, and ideas for building a better future. The site won the Utne Independent Press Award and has been nominated for a Webby for Best Blog. He lives in Seattle.
Advertisement