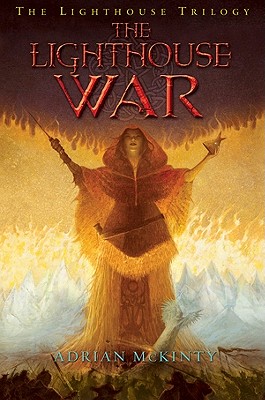 The Lighthouse War (Paperback)
Amulet Books, 9780810972650, 403pp.
Publication Date: August 1, 2008
* Individual store prices may vary.
or
Not Currently Available for Direct Purchase
Description
This sequel to The Lighthouse Land is better than the first . . . nonstop action. * From an acclaimed crime novelist comes the second book in this inventive sci-fi trilogy. Jamie O Neill is back on Earth, where no one but his best friend, Ramsay, knows he's the hero of a great war that saved an alien nation. Now he's back to being a kid with one arm, no girlfriend, and a band that plays bad songs about intergalactic romance. Then the news breaks on the Internet: A space probe has picked up a coded message from far across the galaxy. But not even NASA's best scientists can figure out what it says. Only Jamie and Ramsay know it's a message from Altair: They re needed again. * flamingnet.com
F&P level: Y
F&Pgenre: SF.
About the Author
Adrian McKinty, called one of his generation s leading talents by Publishers Weekly, is the author of many highly regarded crime novels for adults. The books of The Lighthouse Trilogy are his first for young people. Adrian was born and grew up in Carrickfergus, Northern Ireland. Educated at Oxford University, he then immigrated to New York City, where he lived in Harlem for five years, working in bars and on construction crews, as well as doing a stint as a bookseller. He lives in Denver, where he teaches high school. "
Advertisement